---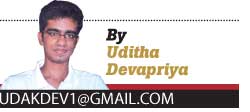 Keli Madala, D. B. Nihalsinghe's fourth film, was arguably also his weakest. It teeters between anger and hope, between idealism and cynicism, rather unstably, and it concentrates that conflict of opposites within the terse, tragic love story between the politician and his teenage paramour. The two most memorable sequences depict the shift from reconciliation to malice in that story: the first of them has them meet, for the last time, by a river, declaring their affections for each other no matter what; the second has the politician, now hardened, in a close up that reveals his blind hatred towards her.
The latter is followed by an arbitrary, less than satisfying, and predictable ending: the woman is gunned down at her doorstep, at his orders. Keli Madala has none of the fluidity, the unhurried pacing, that Maldeniye Simion and Ridi Nimnaya and Welikathara had, partly because of its vignette-like narrative (at one point you feel that the script barely parses, that the plot never properly coheres), but thankfully it is salvaged for the most by its acting. As the politician, then, H. A. Perera proved his versatility in the cinema, and as his paramour, so did Anoja Weerasinghe.
Back then, I didn't really know what film acting entailed. This bothered me particularly in when I had to give into my repressed feelings after shooting and killing Ravindra Randeniya's and Malini Fonseka's characters
Less sophisticated
I have seen Anoja Weerasinghe in a great many films and from them four stick to my memory the most, for her ability to salvage the story that way: Keli Madala, Siri Medura, Janelaya, Seilama. (I have unfortunately not seen Maldeniye Simion.) The features of hers that entice one – that rough, unapologetic voice; those bulging, expressive eyes; that sensual, defiant figure – crop up in film after film, and for better or worse, that's what has cut her out as a different actress. In this sense I think her biggest strength has been her ability to embody contradictory feelings, sometimes in the same sequence, a quality to be met very rarely among both her contemporaries.
After smiling and talking with the boy for the first time in Janelaya, for instance, she turns around and faces the antagonist (her mute accomplice, played by Ravindra Randeniya): the smile is gone, and so is her radiance. It's the same story in Keli Madala, where at one moment she's exchanging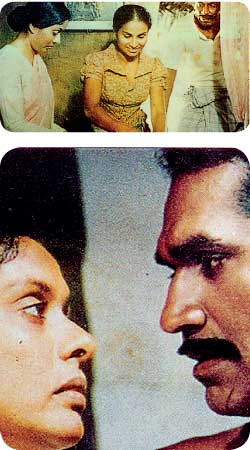 pleasantries with her lover, and the very next she's berating him for his callousness; where at one moment she is listening to his sympathetic daughter's (Nilmini Tennakoon) suggestion that she join an organisation for hard-done-by women, and the very next she's scorning that daughter's shows of sympathy to the father, her paramour, himself.
In the seventies and eighties, right after Malini Fonseka claimed the right to be the queen of the local cinema, a horde of actresses destined to repudiate the populist, patriarchal base which Malini's characters inadvertently stood for entered the industry. They came in a particular order, and Anoja, chronologically, was the third among them. The other two, Nadeeka Gunasekara and Swarna Mallawarachchi, came earlier (though while Swarna entered the industry long before her, her second phase, in which she played the defiant woman, commenced after Anoja's first forays). The differences between these three couldn't have been more apparent: Nadeeka was almost always the timid, introspective rebel, while Swarna, even at her most defiant, was urbane, calm, contained, controlled. With Anoja you come across a player who fit into neither category and yet was somehow at home with both: less urbane, less sophisticated, and by default less contained. She expresses her rage in gushes and torrents; at her most expressive, she virtually oozes out that rage, and wins us over.
The transition
If she appears to be almost never contained in these films it's because that attitude, of being unforgivable and ruthless, make her embody the same predatory characteristics of the societies she is rebelling against. The transition in her from a naive, simple girl to a strong, defiant fighter was, I think, reflected in a childhood spent oscillating between the village and the metropolis. In Siri Medura, Keli Madala, and Seilama, her characters oscillate in that sense between these two opposite worlds, while in the first of those films she occupies a walawwa that is at home with neither the one nor the other. It's an almost shell-shocked, schizophrenic house that she inhabits, that is bound to drive her against the established order. She rarely does fight back overtly, of course, but in Siri Medura she does, though her act of gunning down two people is followed, not by the exhilaration of release, but by a series of ambivalent hysterics. Fittingly, the film ends with her running away from the manor (where to, though?).
So what of her childhood? Anoja Weerasinghe was born in Kailagoda, in the Badulla district. She never received any formal training in her field, but she had an intimate bond with the temple and her parents, the latter of whom were very artistically inclined. She attended schools in both Badulla and Moneragala, in which she took part in concerts and plays. The first of those plays, staged when she was five or six, had her play out a Japanese princess, while her first performance came about when she was 13.
Malini's influence
She discovered the theatre in the village, the movies in the city. At a time when going to the cinema was considered a ritual, Anoja and her friends would walk four miles patiently every time (because there weren't any buses after 6.30 in the evening) to watch the latest shows. One of the movies that struck her, at once, was Welikathara: because many theatres couldn't accommodate the CinemaScope format, they were forced to show it through the conventional projector and screen, distorting the image in the process.
But that sense of daring, and the experience stamped on the film, exceeded its technical interest, so for a long time it entranced young Anoja. Resolved on entering the industry, she hence watched as many movies as she could, almost all of which, she remembered, had Malini Fonseka. Malini became a guide of sorts for her, and in her own words, "I would imitate her for days on end." Eventually she landed in the industry with a 30-second appearance in Yasapalitha Nanayakkara's Tak Tik Tuk, released one year after her first performance, in Monarathenna (also directed by Nanayakkara), opposite Malini, Vijaya Kumaratunga, and Rukmani Devi.
There were other roles, of course; opposite Swarna Mallawarachchi in Sinhabahu (Pathiraja S. Dayananda), opposite Malini in Aradhana (Vijaya Dharma Sri), opposite Sanath Gunathilake in Kaliyugaya (Lester James Peries), and opposite Swarna again in Muhudu Lihini (Sunil Ariyaratne). Muhudu Lihini was shot by D. B. Nihalsinghe, who saw her and was impressed enough by her performance to take her aboard Maldeniye Simion.
But when her name was suggested by Nihalsinghe for one of the leading female characters, both Arawwala Nandimithra (who wrote the original novel) and the producers tried to back out. But the director held firm: if he couldn't cast her, he wouldn't direct the film. So they relented, and so she was in. Remembering Nihalsinghe for me, she had this to say: "I was like a ball of clay under him. He moulded me. To this day I can't understand how I played for him in Simion and Keli Madala. He's so soft-spoken that when he instructs me, the actor beside me can't hear him. In a very subtle manner, he drew the character I played into my soul."
It's interesting to note here that her first few performances had her as a rural woman, right down from Monarathenna. This was despite her adulation of Malini, who gradually in the seventies (the decade in which Anoja bloomed and matured) moved from the village to the city (barring the occasional film). It's interesting also to note that Swarna's first few performances, in the eighties and even before, had her depict more urbane women (think of Yahalu Yeheli, Ridi Nimnaya, Biththi Hathara, and Hansa Vilak) and this despite her past adulation of Punya Heendeniya, who was anything but urbane (barring her portrayals in Ran Salu and Kaliyugaya, where she nevertheless wasn't completely cut off from the rural). In both cases it was, all in all, a subtle inversion of the mentors who had figured in their careers, and with that I think you can discern the difference between Anoja and Swarna: the one was destined to suffer, to be expressive about her rage, while the other, also destined to suffer, was doomed at the same time to suffer more for expressing that rage. When Anoja fights back (in Keli Madala, for instance), her death is planned and executed rather abruptly: her deterioration is never extended, never unbearably dragged on, while in Swarna's case (Dadayama, Suddilage Kathawa, Ayoma), it usually is. The one is shut out and done away with at once, usually; the other is shut out only at the very end.
These were formative years, of course, since she hadn't completely let go of her theatrical past. In Monarathenna she found it difficult to get used to the subtle nuances the cinema was capable of, while in Maldeniye Simion and Keli Madala she was, as with Siri Medura, overtly expressive but more in command of her characters. I particularly remember the last sequence in the latter film, in which she gives into an onslaught of hysterics which, she informed me, came out rather spontaneously.
"Back then, I didn't really know what film acting entailed. This bothered me particularly in when I had to give into my repressed feelings after shooting and killing Ravindra Randeniya's and Malini Fonseka's characters. This involved a lot of footage, which necessitated a series of rehearsals and a perfect final take. When Parakrama aiya asked me to do a rehearsal, however, I was lost.
How could I act out when there was nothing in my mind? I told Parakrama aiya to go for the take, hoping that something would 'come out'. What happened next? I don't really know, but when the camera started rolling, I began asserting my natural self. This led in turn to a barrage of hysterics which continued until the very last shot. That first take was taken in. Right there."