---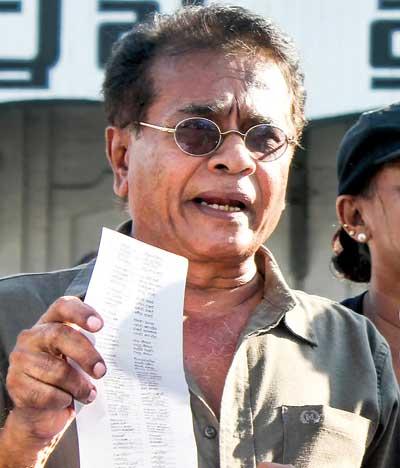 Founder Dharmasiri Bandaranike
As veteran filmmaker and dramatist Dharmasiri Bandaranaike moves into the seventh decade of his life, both he and his TrikonE Cultural Foundation are facing a crisis.
An artistic freedom fighter who warned repeatedly against the dangers of absolutism, Dharmasiri's life is intimately woven together with TrikonE. It began life as the TrikonE Arts Centre in 1999, and became controversial from the start as Dharmarsiri's Sinhala stage version of Euripides' Trojan Women became the focus of virulent attacks by those then in power who disliked its strong anti-war message.

Dharmasiri is no stranger to such morbid hostility. A decade earlier, his play Dhawala Bheeshana, translation of a play by Jean-Paul Sartre, caused such ire from the JVP (then engaged in a life-or-death struggle for power with the state) that he was forced to leave the country for safety.
This time, however, it was his main actress, music director Rukantha Gunathilake and the latter's wife who received death threats from those close to the power centre. Rukantha and his wife singer Chandralekha were forced to flee the country after a terrifying episode during which they faced death threats and their property was damaged.

Throughout his entire career as artiste and political activist, Dharmasiri has fought against corruption and hegemony in politics. It's hard to think of any other filmmaker or dramatist who has worked so tirelessly on behalf of ethnic harmony and national reconciliation.
But, now in the limelight of his career, he is faced with considerable isolation and indifference, and the Covid-19 crisis has compounded the problem by making it impossible to maintain the TrikonE Cultural Foundation so close to his heart financially untenable.
Now located at Anula Road, Kirulapone, the foundation needs to relocate as it's no longer possible to pay rent and maintain it. During happier times, it received funds from Helvetas of Switzerland, and sources as diverse as UNDP, HIVOS, FLICT and SDC.

This was due to the considerable work done by TrikonE to promote inter-cultural understanding and ethnic harmony through the medium of art in a country torn apart by war. The staging of plays and holding theatre workshops and seminars was crucial to this decade-long cultural project, and the making of documentaries at a later stage.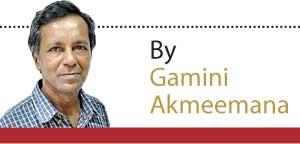 It staged Sinhala plays in the north and east, including areas then controlled by the LTTE, and the reciprocal activity of bringing Tamil theatre to the south. In 2004, the documentary film project began. Trojan Women was staged at settings as diverse as St. Joseph's College, Trincomalee, Wembady Girls' High School, Gamini Maya Vidyalaya, Vavuniya, and Devanayagam Hall, Batticaloa.

"Cine Yathra," a festival of Sri Lankan films, was held at Sri Krishna Theatre, Trincomalee and at Kailasapathy Auditorium, University of Jaffna, in 2003.
In April 2003, the Trojan Women was staged in Trincomalee at the Dance, Music and Drama festival organised by the LTTE's cultural wing, along with the classical Sinhala drama 'Maname.'
Kaushalya Fernando's version of Federico Garcia Lorca's play Blood Wedding was staged at the University of Jaffna in 2005. Bringing Tamil arts and culture to the south, TrikonE organised 'Dharma Uddham' Kooththu traditional Tamil dance drama at the Bishop's College, Colombo, in 2004.

As can be seen, TrikonE holds a considerable inter-cultural legacy, but finds itself adrift and nearly forgotten today due to the ravages of passing time. Founder Dharmasiri Bandaranike is making an urgent appeal to the public to help save its invaluable collection of books, DVDs and other artifacts related to the theatre and cinema.
"If anyone can offer us some space to house this collection once we vacate, that will be deeply appreciated not just by me and my associates, but also by future generations," the veteran filmmaker and dramatist said.
As the present premises must be handed over to the owner next month, this is a very urgent appeal.