---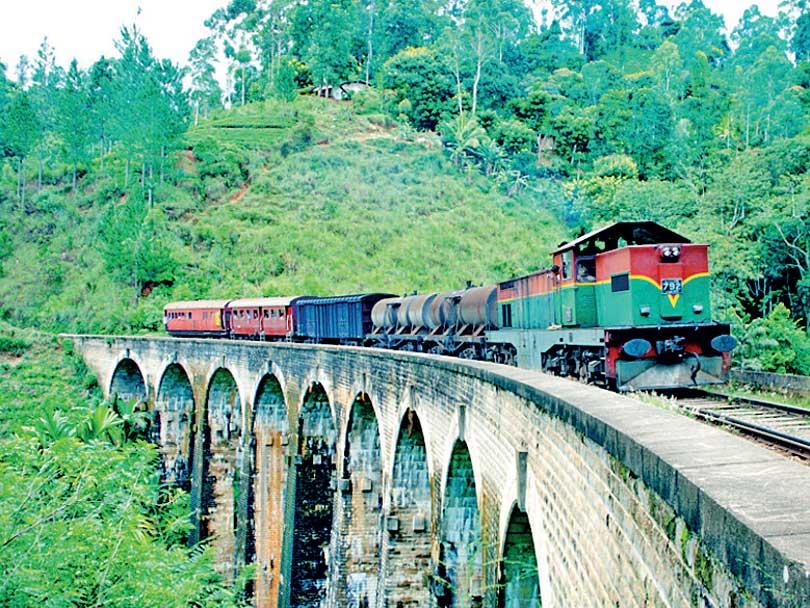 It takes you over one of the most enchanting and unforgettable landscapes of Sri Lanka
Quite justifiably the train journey from Nanu Oya to Ella is being touted as the most "scenic train ride in the world". lt takes you over one of the most enchanting and unforgettable landscapes of Sri Lanka.

Some relations of mine, presently domiciled Down Under had boasted to their Aussie friends about this charming train ride. and all of them had agreed to experience this in December last year. They went on line and tried to book. first or second class seats, around November and they were informed that all seats in these classed were fully booked until January. Though disappointed, they tried their luck once again after arriving in Sri Lanka in December. At the fort railway station once again they were informed that as it was the holiday season all the seats had been up-country travel. However they were told that there might be a chance taken up for up- country travel. They were told that there might be a chance at Nanu Oya where a few third class passengers may be taken. But that would be only for standing passengers on a first to come – first served, basis. So early in the morning of fifth of January we had a hasty breakfast at our Hotel in Nuwara Eliya and rushed down to the Nanu Oya railway station. Although we were informed that the train was due at 9 a.m., lo and behold, we saw the train already loaded with passengers and with hardly any room even to get in. I can truthfully say that there were at least 200 passengers, all like us, waiting to creep into the two of three compartments.. By some miracle we found ourselves pushed into a compartment and I managed to get hold of a railing and clung on to it for dear life. Some of the foreign tourists sat on the ground and wondered aloud as to how they were going to use their cameras as they could only get a good view of the posterior of their fellow-passengers! I clearly saw one enterprising tourist arranging with a local passenger, who appeared to be an Indian estate labourer, to give-up his seat on payment of Rs. 500/= ! The few lucky passengers who had seats were clicking- away their cameras recording the fabulous scenery but all what we could do was to grin and bear it up. When at last the agony was over, I walked up to the Train-Guard who was having an animated conversation with the Station Master at Ella. Very likely he was explaining to him the miracle of bringing 250 standing passengers to Ella, without a scratch! I just asked him why it was not possible to attach a few more coaches so that all passengers would have a comfortable ride. Without batting an eye-lid he said "Sir, we have brought this to the notice of higher authorities over and over again but nothing has happened, so we carry on as best as we could." I was happy that he was truthful and knowing the way that that the bureaucracy works in Sri Lanka, I was not surprised. The railway authorities ought to know that during the holiday season there is a huge demand for passenger seats and should prepare for it .

I sincerely trust the the new Minister of Railways sees this letter which is written in good-faith, and orders remedial measures.

Palitha Wanasundera