---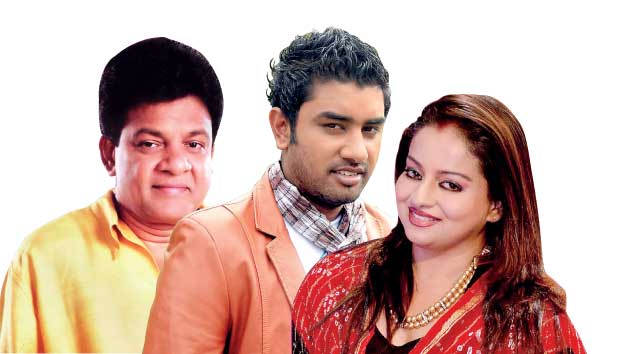 By Sarah Muiz
An evening of classical music awaits music lovers country wide as 'Swetha Bhumi Gee Miyesiya' is all set and ready to hit the stage with high notes this week, Friday (November 24). The show will be held at the Maharagama Youth Centre auditorium from 6.30 p.m onwards.
A fund raising project aimed at donating a computer lab to the Monaragala Dehikindagama Vidyalaya, the musical show also stands out as the very first initiative organised by the Aorta Sri Lanka Foundation. The Foundation itself is a new found organization with its mission focused on extending a helping hand to the less fortunate.
Commenting on their first huge initiative, Founder and Instructor of the Aorta Sri Lanka Foundation and Medical Officer of the Neuro Surgical Unit of the National Hospital of Colombo, Dr. Upul Narandeniya explained that the school is located in a rural area and lacks the facility of a computer lab, which is felt as a vital need for various academic purposes. "The Principle of the Monaragala Dehikindagama Vidyalaya is Mr. D.M.L. Dissanayke and the school boasts of having a high rate of students who successfully pass the grade 5 scholarship examination.
Friday (November 24). The show will be held at the Maharagama Youth Centre auditorium from 6.30 p.m onwards
Pursuing our motive to raise funds for this project we have planned to host a live musical show with a number of popular musicians from Sri Lanka. The musical show will feature talented musicians such as Romesh Sugathapala, Karunarathne Diulgane and Samitha Erandathi Mudunkotuwa in the forefront," Dr. Narandeniya said.
Dr. Narandeniya noted that all members of the organization, including Pasindu Yatawara (President), Sarath Chandrasiri (Secretary) and Suresh Boralessa as Treasurer, are working diligently to make this fund raising project a success. Scheduled to be held as a classical event, 'Swetha Bhumi Gee Miyesiya' will be spearheaded by the music direction of Sagara Wijesinghe with Prageeth Wijesooriya working as the music compiler.
Tickets are available at the rates of Rs.1000.00, 2000.00 and 3000.00 and can be purchased online from tickets.lk or at Sarasavi Book Shop branches in Maharagama and Nugegoda or at the Sadeepa Book Shop located in Borella. Tickets can also be purchased at the Wanapetha Book Shop in Dehiwala, Yamaha Music Center, Ranfer Tea Shop Colombo 03, Abans main showroom, Colombo 03 or can be purchased on the day of event at the counter.
"In future we are planning to conduct more social service programmes to uplift the living standards of our society. Those who are interested in extending their help for such services are most welcome to make their generous contributions to either the current fund raising project or any similar event organized in future through our current account at Bank Of Ceylon (Maharagama Branch). The account Number is 81681666. We welcome the public to contact Mr. Sudesh Boralessa via 0771430155 or Mr.Pasindu Yatawara via 0779304624 for further queries regarding tickets or if they wish to make contributions" Dr. Narandeniya said.