---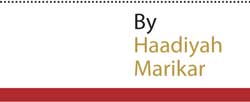 Norman Saranaweera is a blind, retired English teacher and the author of the English Language book, "Easy Way Of Learning English Grammar and Composition". His purpose for writing such a book is so that both children and adults alike will have access to a simple and comprehensive way of learning the English Language, so that they too will be able to enjoy what the language has to offer. The book is written simply and is easy to understand and provides comprehensive knowledge on the correct use of the grammar. He hopes that those who find it difficult to learn the language will turn to his book for help and it will allow them to obtain knowledge from various avenues.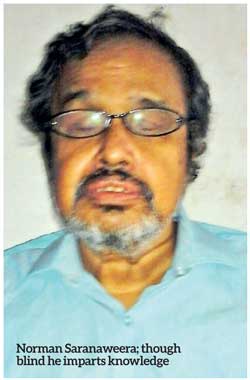 Mr. Saranaweera believes that children in Sri Lanka are unable to study English effectively due to their insufficient knowledge of grammar. Likewise, he believes that teachers too face difficulties in teaching the subject because they too lack the same knowledge," During my teaching career, I was able to find that a lot of students face difficulties in studying English. Knowledge of grammar is essential when learning and understanding a language. That is why after my retirement from the post of teaching I made up my mind to write this book.On the other hand, most of the English teachers are not good at teaching English grammar in particular. Teachers with superficial knowledge of English are appointed by the government to schools as a job giving programme without thinking of the student population living in Sri Lanka. To mitigate this situation my book is very helpful in the matter of teaching English grammar in particular."

Mr. Saranaweera has had a flourishing career for over 29 years. It took him two years to finish writing his grammar book and he faced many difficulties on the way. The book was written in braille and had to be dictated to a typist who entered it into the computer. He had also developed a condition called peripheral neuropathy, which makes him unable to stand on his own and makes it difficult to walk. However, he did not allow his hardships to get in the way of his book being published and the thought of helping the students of Sri Lanka drove him and gave him strength in order to complete it. Although he faced many hardships he is determined to write a second book based on idioms as he feels the knowledge on the subject is inadequate.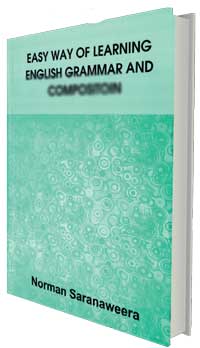 Born as a blind child in 1953 to a poverty-stricken family in a then primitive village called Oluvara, Mr. Saranaweera was not admitted to school until the age of ten due to parental apathy. He received his primary and secondary education from the School for the Blind at Ratmalana, where he learnt to read and write in English Braille. As a result, he liked to read a lot of books in English which sparked his interest in the language. After studying at Harischandra Vidyalaya of Negombo for his Advanced Level exams Mr. Saranaweera was accepted to the University of Peradeniya where he studied English as a subject. After graduating from university in 1983,he was given an English teaching appointment by the government under the Graduates Placement Scheme. Later he was also selected to follow a one year diploma course in TESL (Teaching English as a Second Language) through a competitive placement test by the NIE (National Institute of Education at Maharagama). Furthermore, he was selected through a same test to read for the Post Graduate Diploma course in Education laying a main emphasis on TESL by the faculty of Education of Colombo University. Finally, in 2001 he followed an MA course, entirely in the English medium on Buddhist studies at the Pali Buddhist Post Graduate Institute.

"At present I am very interested in engaging in the process of long-life education in order to update my knowledge on the important current affairs of the world. Therefore, I am voracious and avid reader of current affairs such as Buddhism, politics, and some other current news in English in particular," he added.

Although Mr. Saranaweera is a qualified government teacher who has taught in 5 schools, he had to retire in 2012/13 due to the development of his condition, peripheral neuropathy. His only income is from his book and his pension which is not sufficient to make ends meet. He is married with two children, one who is in University and the other studying for his A/Levels. He currently has no land to his name and lives on rent which is an added expense to his medical and living expenses. Mr. Saranaweera lives a life of disability and poverty which is the most difficult type of life to live," I do not have my own house of residence to live with my family in this country and I am leading a poverty stricken life. In the last regime I requested a house from the housing minister who turned his blind eye and deaf ears to my problem without giving any reply for the request. At present I am highly depressed and in mental agony because I do not have my own house to live in with my children until my death comes. If there is any philanthropist who wishes to help me in any way, it would be highly appreciated by my family including myself."

Mr. Saranaweera currently resides in Seeduwa and can be contacted through email,suadorganization12@gmail.com or telephone: +94 71 724 3649 or 011 3 476258