---
Mrs. Monica Marion Phyllis De Alwis peacefully clasped the blessed hands of almighty God, though unexpectedly, after a life of 96 years on Thursday, April 6. She was the precious life partner of the late senior attorney-at-law Lucian A.P. De Alwis JPUM. Mrs. Monica De Alwis was the third of twelve siblings in the family of the departed well-known criminal lawyer Chevalier C.L.W. Perera and the late Mrs. Esther Perera of Kurunegala. Amma was the doting mother of five sons and six daughters. She was also the fond grandmother to twenty-five children as well as adoring great grandmother of fourteen kids. Amma was the doyen and matriarch of a wide and extended family circle comprising of Doctors, Lawyers, Engineers, Bank and Mercantile executives, Information Technology Professionals and Entrepreneurs. She hailed from a lineage of gentility and repute and was from a conservative ardent catholic background. Amma was always simple and humble, modest and elegant in attire, religious and zealous with no false airs. Her graceful and pleasing ways were the hallmarks of her interactions in society with relations, friends, clergy and colleagues. She was faithful and loyal to her late husband and supported him in all endeavors be it family matters, professional needs, solution of problems and in all aspects of living. They were close and attached to each other, heightened by understanding, trust and hope. The upkeep and upbringing of a large family were no burden to them. Amma actively joined Thaththa in providing the necessities and requirements of the family, ranging from nutrition, medication, clothing, counselling, education, music and sports. She maintained a spic and span household with order and decor. Her domain was of course the kitchen, where she prepared balanced and healthy food with care and attention. Amma's culinary skills were prominently displayed on important and significant occasions with a well laid out grilled and garnished table carrying sumptuous dishes. Featured among them was her appetising beef smore and the delicious seeni sambol.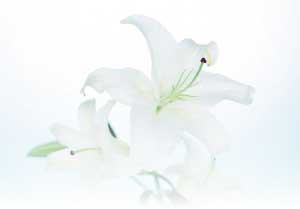 The highlight of the marriage of thaththa and Amma was the celebrations of their Fiftieth Wedding Anniversary in 1994 at the Mount Lavinia Hotel in the midst of the family, relations and friends, with joyful toasts and felicitations and bands and music, beginning with a Mass of thanksgiving. The golden era continued for a further five years and ended in 1999 with the demise of Thaththa. Consequent to her husband's death, Amma lived in prayer, remembrance and gratitude for eighteen long years with love, care and support surrounded by a grateful family.
Amma nurtured a pleasant outdoor environment with the cultivation of exotic plants, paying special attention to flowering varieties. Befittingly her bier was adorned with clusters of varied hues of fragrant roses and dahlias. Her prowess with the needle was the exponent of a unique talent. Her nimble and swift fingers transformed colourful creations of embroidered handiwork which attracted the admiration of many for their execution, neatness and presentation. The image of Santa Claus impressed in thread on chair covers are still exhibited at Christmas. The bedspreads meticulously worked out in patterns of appropriate designs and motifs are still preserved as family heirlooms.
Another aspect of Amma's profound standards were her respect, concern, friendship and assistance to others including orphanages and elders homes. It was in consideration of others' wants as well as an acknowledgement of their success that she moved among people sincerely with ease and freedom not forgetting their birthdays and anniversaries. Amma also took pleasure in presenting gifts and memorabilia at appropriate times. Unforgettable are the splendid Christmas get-togethers when Santa Claus called our names to hug us with a present.
Amma's departure from earthly shores marked an innings of accomplishments in Love and Fidelity, in Care and Concern, in Goodwill and Sincerity, in Charity and Assistance, in Praise and Trust in God.
Thank you Amma for the memories you have left and for the good times we have shared.
The obsequies were conducted by Rev. Fr. Bonnie Fernandopulle and Rev.
Fr. Sriyan Ranasinghe OMI. The mortal remains were laid to rest in her husbands grave at Mount Lavinia Cemetery.
May Amma be at Peace
Ronnie