---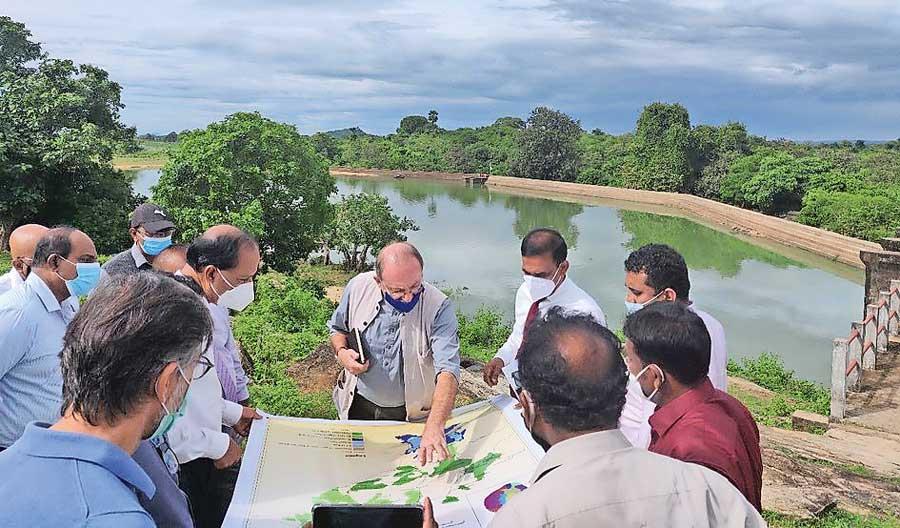 Mr. Eric Lavertu (French Ambassador to Sri Lanka and Maldives ) during a visit to the Mundeni Aru irrigation project site. (Image courtesy- AFD)
The French Agency for Development (AFD) started operations in Sri Lanka back in 2005 as part of a post-tsunami

intervention. As a development bank and corporation agency owned by the French Government it implements France's policy in the area of development and international solidarity. AFD teams are active in over 4000 projects in as many as115 countries which includes middle income, low income, emerging economies and crisis areas to promote the 'common goods'. These include climate, biodiversity, peace, gender equality, education and health. It is in fact France's way of contributing to the commitment France and the French people have made to achieve the Sustainable Development Goals and to financially support the developing countries in implementing the Paris Agreement on Climate.
"Feasibility studies are also being conducted on a project to implement European best standards in four harbours including Beruwala, Galle, Kudawella and Purana Oya."
With several projects in the pipeline and some about to be implemented, AFD's newly appointed Country Director for Sri Lanka Reda Souirgi is optimistic about the months ahead.
"Sri Lanka was the first country where AFD started working in South Asia and helped the government to provide water supply, infrastructure, energy, roads, bridges in areas that were affected by the tsunami," he said, addressing a press briefing. Our focus on projects is linked to the French Agenda in terms of development, climate transition towards resilience and low carbon economy and establishing a sustainable Blue economy among others," added Souirgi.

However, AFD financing comes with international or national competitive bidding and has no underlying commercial or geographical interest. "Our agenda is to work with SL authorities in the best interest of the country, earn international solidarity, green recovery, gender equality and these aspects are reflected in the projects we support," he added.
Ongoing projects
Some of the ongoing projects include the construction of four grid substations in the central region and several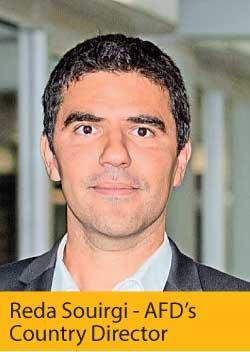 other projects in the energy sector, Ambatale water supply systems improvement and energy saving project, Sanitation Hygiene Initiative for Towns in Negombo, Ratmalana / Moratuwa wastewater disposal project under water and sanitation and the Anuradhapura Integrated Urban Development project. Two major projects approved by the AFD Board include the Mundeni Aru River Basin Development Project which includes the construction of two dams to create multi-user water storage reservoirs and irrigation and drainage facilities covering an area of 11,000 hectares. It also aims to improve the livelihoods of people of the River Basin. Another project is the Jaffna Sanitation Project which will improve or allow access to sanitation services for some 56,000 people with phase 1 and an additional 80,000 people with phase 2.
Feasibility studies are also being conducted on a project to implement European best standards in four harbours including Beruwala, Galle, Kudawella and Purana Oya. This project includes a component to work with community of fishermen and women and improve value chain of dry fish manufacturing.
Appraisal and investments
Souirgi further said that AFD aims to continuously improve the design of the project to help people. "But prior to implementing a project we do an appraisal of the project which would take between six months to one year depending on the size of the project. Thereafter we check if it is profitable, environmentally friendly, the social impact and other challenges. We then present these to the AFD Board in France and if it is approved we can proceed," he said.

For the past 15 years, AFD has approved approximately USD 1 billion in public financing to the Government of Sri Lanka and public companies while another EUR 270 million has been issued to the private sector. "Private sector loans are implemented by Proparco that work with the private sector and microcredit institutions issuing credit lines to small and medium enterprises," explained Souirgi. However they would observe macroeconomic sustainability and debt sustainability prior to releasing loans.
Urban transport and green cities
When asked about improving urban transport Souirgi told the Daily Mirror that given the macroeconomic situation this period is not the best time for such projects. "But in the meantime they could look at improving the bus network, a rapid bus transit project, develop an App for buses, introduce low emissions vehicles and so on," he said.

Responding to a question on implementing green cities Souirgi drew an example from the Anuradhapura Integrated Urban Development project where they are integrating the ancient city and the modern city. "In the modern city there will be sustainable mobility, drainage facilities, landscaping and so on. You can achieve a lot with sustainable private policies and private investments. In Sri Lanka certain government and international agencies can improve the concept of greener cities particularly in Colombo and Kandy. Kandy is congested by traffic. Another option would be Matara. But then again, cities in Sri Lanka are quite green as a percentage of them lie in the countryside. Therefore public policy is important and we are keen to work in Sri Lanka and help the government to avoid what we saw in other countries," said Souirgi.
While assisting the Government to move a bit further in different sectors they think are important, another item on the agenda is to alleviate the consequences of the 30-year conflict.

Apart from that AFD is also working on the lines of climate change mitigation and improve energy efficiency in buildings as they believe it to be a big pillar of green recovery after the COVID crisis. "Our job is to accompany the country to transition towards a sustainable, green and mature economy. We in fact want to remain committed and maintain our effort to support Sri Lanka in its green recovery and transition towards low carbon economy and sustainability. We want to focus on the non-sovereign private sector while strengthening our partnerships with the European Union, Asian Development Bank and other international financing institutions while maintaining our partnership with the Sri Lankan government," he concluded.