---
I first met Gamani Jayasinghe in the office where my (prospective) husband Sachi and I were working for an absentee senior lady lawyer. Our office had become a meeting place for many of our friends, to have a cup of tea in between appearances in Court and chat cheerfully on subjects veering from pleadings and practice to politics and gossip. Two frequent visitors were carefree Suranjith Hewamanne and serious Gamani; both quite jovial and pleasant. I did not get to know Gamani much, then.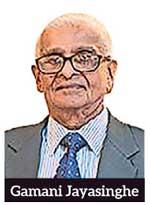 Later on in life we were privileged to continue to be his friends despite the fact that Sachi and I were mostly in Hatton. Along with P.T. and Senehelatha Perera and Pradip and Jayashree Vasa, Sachi and I continued to meet Gamani at various private get-togethers through the years.

A soft spoken gentle lawyer of truly gentlemanly demeanour he rose to be one of the cleverest leading civil lawyers of our time. One of his outstanding qualities was absolute lack of self–aggrandizement despite his exceptional achievements in the legal arena. He shunned appointment as President's Counsel- a rare attitude among lawyers who rose to the very top as he did. The friends in our circle and many more people, I am sure, felt we could depend upon his integrity- a quality in really short supply then as it is now. He would "do the right thing", we knew, no matter what. Sachi and he had much in common and they shared a strong egalitarian outlook. Both worked free of charge for less affluent clients throughout their professional careers.

No! We all feel, in despair. This could not have happened to Gamani! He could not be gone. But he is and we have to accept his journey through sudden illness and the inexorable threshold of death. We are left with memories of our privileged association with him and a searing sense of loss.

Memories of the numerous consultations my husband Sachi and I attended at his chambers granted generously free of charge by him. The happy parties attended at his home hosted by his sister Kanthi. I distinctly remember reading out one of my poems at one, and the encouragement given by him for my writing. I used to get him to explain some Abhi Dharma I was struggling to understand from a book I had. He told me that the particular book was not quite good and promised to give me a better one. He was versatile both in Dhamma and the Law and many other matters. His perspectives and attitudes were refreshingly cosmopolitan.

Thus, to Sachi and me he became an icon of sense and sensibility in a turbulent sea of racism in which we were tossed about so often. I must mention that he was never a racist nor a bigot. His calm rational words comforted us.

And now the edifice of camaraderie and togetherness which bound Gamani, our friends and us together in a seemingly permanent bond for years has ended. Gamani's death drives a permanent wedge in our hitherto bright world of friendship. He will always be cherished in our hearts for being a true friend and a gentleman. I wish he could know how much we miss him.
- (SAKUNTALA
SACHITHANANDAN)