---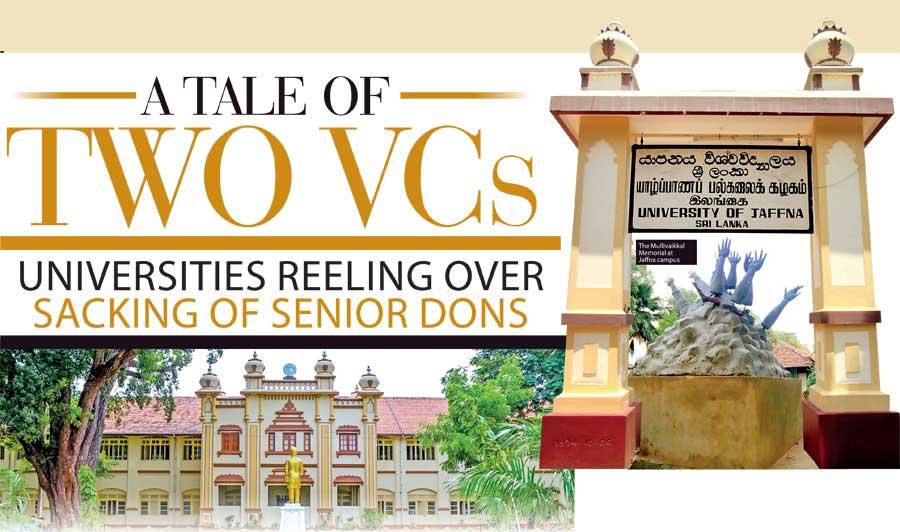 The higher education sector is in upheaval over the arbitrary sacking of former Vice-Chancellors of the Jaffna and Visual and Performing Arts universities, Prof. Ratnam Vigneswaran and Prof. Sarath Chandrajeewa. The two senior academics were dismissed without reason or inquiry by President Maithripala Sirisena this year together with the University Grants

Commission (UGC). Their removal letters cited Section 34 of the Universities Act which states: "The Vice-Chancellor of a University may be removed from office by the President, after consultation with the Commission."

Removal of Prof. Vigneswaran
The removal of former Jaffna University (JU) Vice-Chancellor (VC) Prof. R. Vigneswaran came amid disputes regarding the unveiling of the 'Pongu Tamil' monument, the holding of the 'Tamil Amutham' cultural event and the construction of the Mullivaikal memorial inside the campus.
An affidavit by UGC Chairman Prof. Mohan de Silva stated that in September 2018 military intelligence had raised national security concerns regarding pro-LTTE student activity in the JU. This reportedly included the 'Pongu Tamil' monument and the 'Tamil Amutham' event. Another concern was the Mullivaikal memorial. The Army Commander also reported the matter to the UGC. However these reports were not shared with Prof. Vigneswaran, citing confidentiality and national security.
The 'Pongu Tamil' monument bears Tamil nationalist inscriptions in all three languages. It reads: "The aspirations of the Tamils, namely right of self-determination, traditional homeland, Tamil as a distinct nationality, should be recognized." Speaking to Daily Mirror, Prof. Vigneswaran said this was identical to a board displayed in the university for several years. He had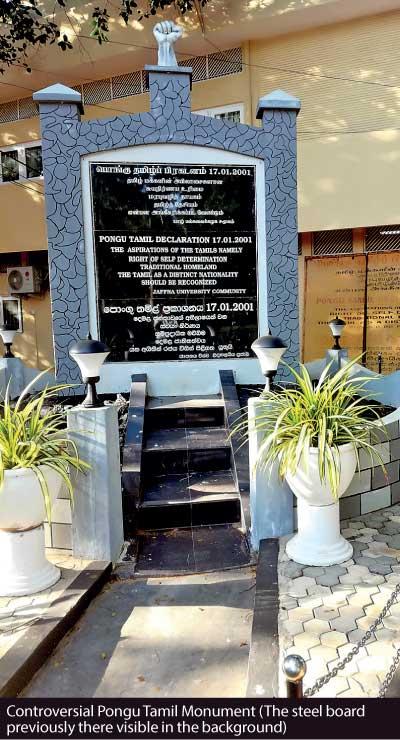 allowed it to remain as it contained nothing illegal. In fact the plaque still remains, and his replacement, Competent Authority (CA) Prof. Kandasamy Kathirgamanthan, has permitted holding the 'Tamil Amutham' event this year as well.
"Prof. Vigneswaran accused the UGC of flouting procedure and denying him due process. "The UGC must conduct an inquiry, interdict me and issue a charge sheet. They can't just dismiss me from work for no reason"

Regarding the Mullivaikal memorial, the government had halted its construction in April 2018. But ten months later the students had built it elsewhere and shifted it to the campus. Prof. Vigneswaran said he inspected the memorial and found nothing illegal about it as it did not mention the LTTE. He noted the memorial was built to remember the Mullivaikal victims of the final stages of the war in 2009. Prompted by the Higher Education Ministry, the UGC had asked the VC for a report on these incidents. The UGC claims there was no reply, but Prof. Vigneswaran insisted that he posted a reply.
Meanwhile JU chemistry lecturer Dr. N. Sivapalan told Daily Mirror that many students and staff appreciated memorialization practices, and removing the Mullivaikal monument would have been difficult. "Removing the monument would have created tensions within the university. Even today it remains inside the campus," he said. Regarding the 'Tamil Amutham' event, Dr Sivapalan said it was a celebration of Tamil culture, comprising Tamil dances, villupattu
and drama.
Procedure and due process
Prof. Vigneswaran accused the UGC of flouting procedure and denying him due process. "The UGC must conduct an inquiry, interdict me and issue a charge sheet. They can't just dismiss me from work for no reason," he charged, adding that his sacking was politically motivated and undermined natural justice. He said the President's Office also gave no reasons for his dismissal in a letter dated 30 April 2019. Though he wrote to them seeking an explanation, there was no response. He consequently filed a Fundamental Rights (FR) case at the Supreme Court (SC) in May this year protesting his "Arbitrary, Irrational and Unreasonable" removal which he said violated Articles 12 and 14 of the Constitution.
Speaking to Daily Mirror, Federation of University Teachers' Association (FUTA) President Prof. Rohan Fernando said that Higher Education Minister Rauff Hakeem had informed them that Prof. Vigneswaran was removed on national security concerns based on "confidential evidence". However he added that it was unclear if President Sirisena had followed procedure in consulting the Commission and not just the Chairman when dismissing the VC. Dr. Sivapalan raised a similar concern. "It appears from the UGC Chairman's affidavit that the Commission was apprised only after the Chairman had written to the President's secretary," he said.
Prof. de Silva's affidavit disclosed that he had informed the President's secretary and submitted the documents seeking relevant direction in a letter dated 5 March 2019. He had apprised the Commission about the situation on 21 March 2019 and informed it of the VC's removal on 9 May 2019. The letter of removal was sent on 30 April 2019 and was received by Prof. Vigneswaran on 6 May 2019.
Removal of Prof. Chandrajeewa
Meanwhile, former VC of the University of Visual and Performing Arts (UVPA) Prof. Sarath Chandrajeewa was removed amid disputes over the aptitude test and internal staff tensions. Prof. Chandrajeewa wrote to the President's secretary protesting his removal on 19 September on grounds that it violated his fundamental rights and undermined natural justice. "Even for an employee in a lower grade, the reasons for removal are given and a charge sheet produced or the removal is done following an inquiry. I have not been given a chance to reply to any of the charges," he charged. He also demanded reasons for his removal, and has filed an FR case in the SC seeking redress.
The sacked VC said that he was appointed in 2017 according to UGC procedure based on his qualifications and experience. He argued that though appointed through a proper selection process, his dismissal was both unprincipled and unethical. He faulted the UGC for denying him the right to be heard, and accused it of misleading the President. "I highly believe that the UGC has taken an arbitrary decision and has misled the President to make this decision," he said. Prof. Chandrajeewa added that his removal violated election laws. "The new appointment of VC or CA will be a politicized appointment," he asserted.

Aptitude test
Speaking to Daily Mirror, UVPA Graduate Studies Dean Prof. Saumya Liyanage said there was friction between the UGC and Prof. Chandrajeewa over the admission aptitude test. "The UGC made the strange request to admit three times more students than usual," he said.
By then Prof. Chandrajeewa had introduced a new audition process, to which there had been no complaints, Prof. Liyanage said.
The UVPA aptitude test is compulsory. But increasing student intake meant that those who failed could gain backdoor admission to the UVPA through the UGC. Moreover, many who passed the test had been denied admission. "The VC questioned the rationale behind this request. Although he followed it, he wrote to the UGC explaining the consequences of this order,"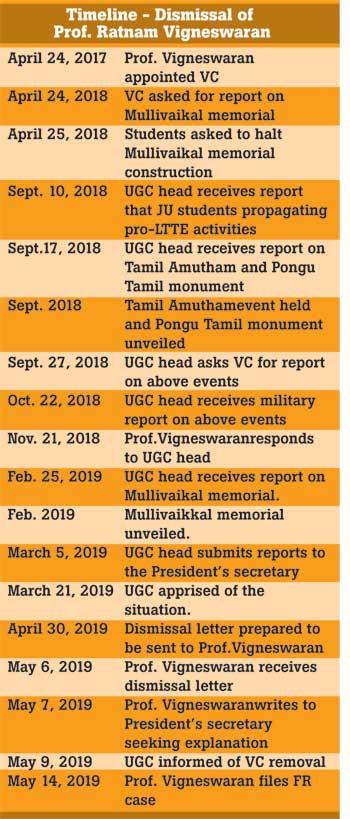 Prof. Liyanage noted.
Prof. Chandrajeewa accused the UGC of acting autocratically and undermining university autonomy regarding the aptitude test. He revealed the UGC had informed him of their decision ten months late, after the list of students who passed the test had been finalized. "It would have been more appropriate if UGC had discussed and decided this process with relevant VCs or at the VC forum," he said. "These actions of the UGC demonstrate their present autocratic behaviour of taking non-negotiable and one-sided decisions."
Prof. Liyanage added that certain lecturers opposed the former VC's policies to promote quality research, which are lacking in the national education system. Prof. Chandrajeewa had also organised an International Symposium last year, introduced an English teaching programme and published a university journal in English. Further, a joint symposium with the International Council for Traditional Music (ICTM) affiliated to Harvard University is to be held later this year. "If the UGC understood Prof. Chandrajeewa's vision they would not engage in such manipulations," Prof. Liyanage said, adding that bureaucracy and politics influenced such actions. "The public needs to know what happens in universities. It is high time these issues are brought to light," he stressed.
International outcry
International academics have also denounced Prof. Chandrajeewa's dismissal. Retired Jawaharlal Nehru University (JNU) theatre lecturer Prof. Rustom Barucha lamented: "The timing of this dismissal and the absence of democratic dialogue, does not represent the ethical and professional standards that one expects from the Sri Lankan academia." Retired University of Salzburg Prof. Manfred Bartmann and Dr. Gisa Jahnichen of the Shanghai Conservatory of Music called for his reappointment. "This is not only thoughtless but criminal. It is a very inhuman way to deal with excellent people in their field," they said.
Campus autonomy
FUTA Media Spokesman Dr. Athulasiri Samarakoon said further clarification was needed from the UGC regarding due process. "Both are accomplished academics, well known in academic circles. As members of the academia we demand that the UGC make a statement," he said, adding that it is believed the President was misinformed or misled, as the UGC was yet to reveal the facts they presented to the President.
Dr. Samarakoon added that FUTA would be writing to the President and UGC seeking reasons for the dismissals. "We are very unhappy about the way the VCs were removed because it has not happened previously, and we are worried that this might happen to other VCs in the future," he said.
Emphasizing the importance of university autonomy, Dr. Samarakoon said the military could not arbitrarily intervene in university matters. "Universities have the autonomy and academic freedom to debate and discuss issues," he said.
He charged there was "acute politicisation" within the education system, especially in university appointments and removals. "Academic freedom must be respected. Justice must prevail. The reasons for their removal should be revealed, and everyone must know why this happened," he stressed.
UGC unmoved



Despite the outcry, the UGC continued to stand by its actions. Speaking to Daily Mirror, UGC Vice-Chairman Prof. P.S.M. Gunaratne insisted that the President's decision to remove Prof. Vigneswaran and Prof. Chandrajeewa was done in concurrence with the UGC, and that a reason need not be given for such dismissals. He declined to comment further, and said more information could be obtained from the UGC Chairman, who could not be reached as he was overseas.