---

She was four years old when the disastrous tsunami hit the southern and eastern coastal strip of Sri Lanka in 2004. She was in that fateful train accompanying her grandfather and aunt when the mass of water gushed into the train in Paraliya. There are the reminiscences of Nipuni who witnessed the tsunami which caused destruction in all its force. The monstrous surge of water loomed over the train and instantly gulped all in the train. Thirteen years after the tsunami we went to Arachchigewatta in Imaduwa Ahangma in search of this tsunami survivor.

This girl is Nipuni Wathsala Abewickrema, now a 17-year-old teenager. In response to our quest to know her story about the tsunami experience, Nipuni with a feeling of shock and pain associated with the loss of her grandfather during the tsunami began to narrate the horrifying tale. "At that time our uncle was at Trincomalee Camp. My grandmother and elder aunt made arrangements to see our uncle in Trincomalee. As it was during the December school holidays they also took me with them to visit uncle. "After our arrival in Trincomalle uncle provided accommodation and all other necessities. We were able to visit several important places there and enjoyed our stay.

"We left Trincomalee on December 25th by night mail to Colombo. We reached Colombo Fort station on 26th morning. After having breakfast, bought by my grandfather at the station canteen, we boarded the Matara bound train. The three of us shared a row of seats which offered a view of the seaside during our journey to Matara. A few minutes after passing Ambalangoda Railway Station the train stopped suddenly and we had the instinct that there was some imminent danger,"she recalled.
When my aunt pushed me up to climb out through the window I felt someone's foot trampling my head. There was a stampede and passengers were trying to escape. However, we were able to escape through the window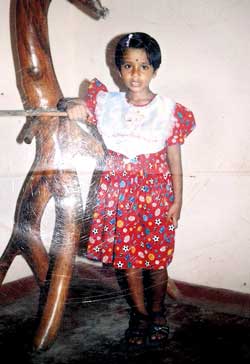 Screaming people

Nipuni continued to recall her memories. " We saw a large number of people screaming and rushing towards the train. Many of them got on to the train that was stationary by now. Some of them came with bundles or bales containing items on their heads. We were surprised to see large waves rushing after them. "Then we saw that the train compartment before ours had toppled. Then my grandfather shouted warning us not to close the windows. My grandfather's raised voice at that moment of destruction still echos in my ears," she said. According to her in a few seconds their compartment was filled with water up to the level of the window after the train had toppled to the land side. "As we were seated facing the seaside we could resist the gushing water for a few minutes. My aunt raised me up and managed to hold on to the racks inside the train. By then water was up to her neck. Suddenly we could hear grandfather shouting from top of the toppled train. He was asking my aunt to raise me up and me over through the windows so as to take me out first. But my aunt couldn't do so as she was holding onto the rack with one hand. After that we couldn't see nor hear grandfather. He was probably washed away by the water," she recalled.

Escape

They had remained for a few minutes. Then the water had receded to some extent. The scene around had been terrible. Many were laying, probably dead, at the bottom of the toppled compartment. Some had jumped out of the train through the windows. "When my aunt pushed me up to climb out through the window I felt someone's foot trampling my head. There was a stampede and passengers were trying to escape. However, we were able to escape through the window. We began to move through the water without knowing where we were heading to. Some people shouted and warned us not go further as there is a river nearby. Finally these people rescued us using long ropes, she said. Nipuni said that after being rescued they were led to a temple where they were provided with meals and temporary accommodation. "We later came to know that we had been given shelter at the Thelwatte Temple," she said. During those few days they hadn't had a mode of contacting their relations. But the people who had come to see them at the temple were very kind and had provided all their needs.
"One day we met a kind gentleman who came to Elpitiya Temple along with a team to distribute meals to tsunami victims. We asked him for help to be taken to the family of one of our relation's in Elpitiya. Although all the roads in the area had been severely damaged due to the tsunami we received his help and reached the relation' house with much difficulty. Two members of this family were employed by the Sri Lanka Army. They contacted our uncle in Trincomalee and informed him that we were safe," she reminisced. Nipuni said they weren't able to locate the body of her grandfather. He had been employed by the police. Later Nipuni's family had come to know that someone had found her grandfather's identity card and handed it over to the Boossa Camp.

Several days later Nipuni's family had returned home. "We saw how the whole area had been devastated by the monstrous tsunami. My aunt had to be admitted to the hospital due to health issues she had developed as a result of staying in the water while on the train. Due to the tsunami we could see how people died right before our eyes. Our grandfather was one of those who vanished with the others," she said.

Every year Nipuni and her family go the tsunami memorial in Paraliya and engage in religious activities to invoke merits on thousands of tsunami victims, including my grandfather.

"Whenever I pass the area where our train fell prey to this tidal disaster a cloud of horror engulfs me. Today I am awaiting the result of GCE A/L examination. Before 26 December 2004 we knew nothing about the tsunami. But on this tragic day I experienced this tidal disaster as a 7-year-old little child. I pray that we don't get to face another tsunami in my lifetime," she said.