---
It is hard to imagine that 10 years have elapsed since the demise of Ganesh. He was a very popular figure who served everybody regardless of caste, creed, race and religion to the best of his ability.
Ganesh was born in Palaly in the Jaffna peninsula on January 3, 1938 and was a son of Mr. Kanagasabey a well-known lawyer who had a lucrative practice. He had his early education at Hartley College, a famous educational institution that has produced many eminent personalities. For his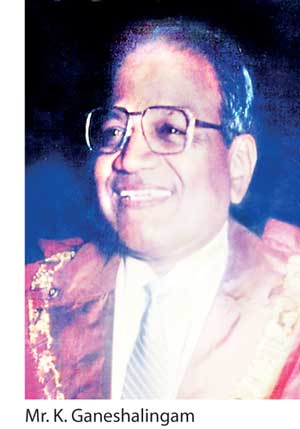 secondary education he moved to S. Thomas' College Mount Lavinia. It is significant that though the family consists of eight children (six boys and two girls) he was the only one sent to Colombo to pursue his studies. He was in the boarding at S. Thomas' College and shone at both studies and sports.

Ganesh was extremely intelligent, though he did not devote as much time to his studies and was not a bookworm. He came under the tutelage of Rev. Roy H. Bowyer-Yin a famous Cambridge University College who whilst serving as Chaplain at S. Thomas' College also taught mathematics in the University entrance class. Ganesh had no difficulty in obtaining entrance to the University of Ceylon. During those leisurely days the University students did not engage in strikes or hartals but most of them seemed to be youth who were keen on changing the world. This was a phenomenon not only confined to our country.
They had socialist ideas and were keen on upliftment of society in general. Elections at University were taken very seriously and was a matter of prestige. Ganesh contested and never lost an election. He then moved on and joined Ford-Rhodes-Thornton & Co. to study accountancy. He was very popular with his colleagues and superiors and in addition to his clients because of his friendly disposition. Thereafter, he launched into many business ventures, all of which proved very successful because of his hard work, attention to detail, and the business ethics that he always practised.

Politics was always a passion with Ganesh. He took an active role in this and was a very popular Mayor of Colombo. He did much for the city, widening roads, uplifting shanty dwellers, making arrangements for garbage clearance. At most social gatherings Ganesh was the centre of attraction as he always led the discussions on the latest political developments in the country and his views on what should be done. He was very articulate though not dogmatic or inflexible and even those who may not have agreed with him never felt any animosity towards him as they accepted he was sincere in his beliefs.

He was very loyal to his Alma Mater and helped S. Thomas' in whatever way he could. He was a live wire in the Mustangs Tent at every Royal-Thomian match.

A famous Spanish historian stated that 'Those who forget their past are condemned to relive it'. Ganesh believed in this and never forgot his roots. He was always keen on helping his ancestral village. Sadly, the conflict that prevailed Sri Lanka at that time, prevented him from visiting as often as he would have liked. Ganesh was very fortunate in having a contented family life. His wife Yamuna, daughter of a well-known physician in Point Pedro, Dr. P. Sri Padmanathan, was a great source of strength to him in all his endeavours and stood by him in good times and in bad. His two children Menaka and Kantheepan were a great source of joy to him, and both of them live and work in London. He has two grandchildren who have excelled in their studies.

Except for one, all of Ganesh's other siblings live overseas. This is a sad predicament in which most Jaffna Tamils are placed in today. Though he had many opportunities to migrate, he always stated that he would live and die in the land of his birth. As Mayor of Colombo, the thing that brought him most joy was when he received His Holiness Pope John Paul II in January 1995. He was also very touched when he received a note from Mother Theresa who was canonised recently, in which she stated 'Dear Mr. Ganeshalingam this brings to you my humble gratitude on behalf of all the poor. God Bless you'.

Ganesh has left us. Yamuna has done much to keep his memory alive. Our prayers are with her and other members of his family that God will be with them in their grief.
Rajan Asirwatham