---
Oranee was my friend for 50 years. For 20 years we were at the Sri Jayawardenepura University. She was a Chemistry honours graduate and her husband was a Professor of Chemistry and Dean of the Faculty of the same university.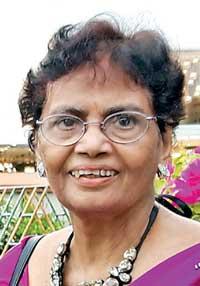 She was a Christian, but I used to say she was a better Buddhist than most Buddhists because of her thinking and philosophy of life. I even think as I am writing this, what is the use of speaking of her goodness now when she is no more. But no! I know only a fraction of her goodness and even that is so much and the world needs to know of it. Not only I, but the entire university staff and students and all those who ever knew her know how much she sacrificed to help each of us through vicissitudes of everyday problems. I sometimes used to berate her, 'you are not looking after your family'; because in the mornings she was working at the university and in the afternoon at the slums of Wellawatte where she built a community centre. But later I knew I was wrong. Every birthday and at Christmas the slum children were given a treat at her home. They had food that they had never seen or tasted in their life. Her children knew them by their names. When her children grow out their clothes, they say 'this is good for that boy'. She herself had only 5 sarees. If she got another, she would give away one. If she could afford she would hire a van and take those children around sightseeing in Colombo. We were poor teachers awaiting pay day. But she had such generosity.

She never did housework or worry about educating her children. Giving them tuition was unheard of. Her children left alone, studied very well and are now well established. Her husband did the marketing and the daily help did the cooking. So the household was managed.

Her son Michael as a medical student stayed with the grandfather next door caring for him till he died; he was gifted with his ancestral house and property.

When I saw them recently, they had no income being university Dons, and were not entitled to a pension. Michael would bring all the dry rations weekly. The two well-educated girls Maitree and Mihiri were in and around the house and caring for the parents.

They grew up seeing poverty and thought how lucky they were to have such luxuries. They were happy and satisfied, always smiling and sacrificing their time and energy for others without expecting any returns–underscoring lessons in divine love (Metta).

They came to see me at my ashram and I was laughing and talking as before, even forgetting that I was a Nun. She brought me an expensive gift. I know it was a precious birthday present given to her which she carefully preserved and gave me.

She lived divine and now in a high heaven must be looking at us suffering as never before. She will be answering our prayers and using her divine powers to help the poor mortals as usual.

She is certainly more powerful in death than even in life. How I wish that there are more 'Oranees' in the world.
Ven Dr Bhikkhuni Kusuma