---
Language is indeed one of most essential and powerful communication devices for all mankind. Different countries and different nations have different languages.
In Sri Lanka, the Sinhala language has been the mother tongue of the Sinhala nation for over 2500 years.

Our Language is regarded as an Indo Aryan language, which has diversified its original identity by entangling with modern Portuguese, Dutch, English and Tamil versions.

Nevertheless over the past 2500 years the Sinhala language maintained its national characteristics according to strict grammatical principles. With the rapid development of technological devices people have lethargically adopted a colloquial way of writing. Some of the modern writers are either unconcerned or ignorant of grammatical rules. They ignore and also seem to be satisfied if they could merely communicate or express their views and opinions in whatever manner they wish.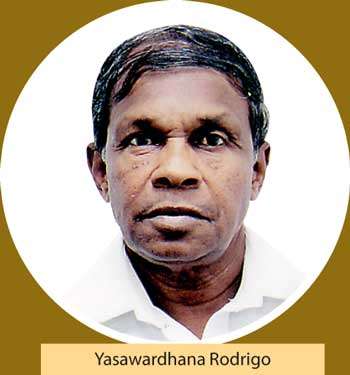 At present radio, tv and other electronic media as well as print media, is infested with such unruly short cut methods.

Hence, the very essence of our mother tongue is gradually depressed and endangered. Day by day, due to the negligence of the true and original identity of our own mother tongue, the Sinhala language is going from bad to worse.

Yasawardhana Rodrigo, a veteran journalist and author of over 40 books, with the purpose of boosting moral ethics and social values has taken yet another giant step to publish his latest text වහරමු හොඳින් විමසා.

It is indeed a timely medication to safeguard the life and style of Sri Lankan Language.

It also conveys a valuable lesson to all those who wish to write Sinhala scripts accurately and avoid being subjected to humiliation and ridicule in the eyes of intelligent readers.