---
May this attempt be a life reverberating gift presented on the very day His Lordship Anton Ranjith Pillanayagam the Auxiliary Bishop of Colombo is consecrated.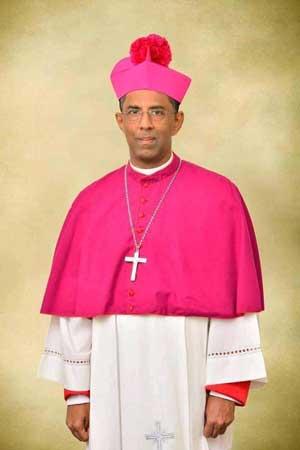 It is obvious that the Roman Catholic Church gives its leadership for an estimated 1.2 billion (according to Vatican figures) populaces all over the world. Catholic ecclesiastical stands in its own significance due to its well organised institutional hierarchy and its chain of command. It is in such a backdrop the appointing of a new bishop is highly recognised and elaborated. A bishop is a star that shines once in a blue moon in the Catholic Apostolic. The Church's code of Canon Law observes a bishop is "to consult one another on matters of major importance". (Canon 407.3)

"Pope Francis on Monday(July 13) appointed a new Auxiliary Bishop in the Archdiocese of Colombo, the capital of Sri Lanka. Fr. Anton Ranjith Pillanayagam, a priest of the archdiocese, is the third auxiliary bishop of the metropolitan archdiocese" thus went the Vatican News.

His Lordship Anton Ranjith Pillanayagam was born into an ordinary Sri Lankan family in a suburb named Karampon, Kayts in Jaffna peninsula in 1966. Hailing from a devout Catholic family, the parents; Michael Antony and Dharma Selvadurai were blessed to give birth for twin sons Ranjith and Ajith. Losing the paternal love at an unexpected early stage in life might have paved the way to young Ranjith to be indefinitely be closer to God.

Yet, industrious, determined, excellent student Ranjith successfully got through his Advanced Level Examination in August 1985. Moving further, his untiring efforts into his education resulted him being a graduate (B.Sc in Maths) from the University of Jaffna in 1993 where he also completed his Masters in Philosophy few years afterwards.
Rev. Dr. Kingsley Swampillai, the then Bishop (Emeritus) of Trincomalee and Batticaloa, wouldn't have ever envisaged, perhaps, that the youngster whom he has introduced to the vocation would reach such heights to address him today "Your Lordship". Ordinated on the 16th September 2000 at St. Lucia's cathedral by His Grace Nicolas Marcus Fernando the Archbishop Emeritus; His Lordship Anton Ranjith Pillanayagam commenced serving the Sri Lankan Catholic community as an ordinary priest. Ever since then we all identified him to be a well-mannered and highly prepared follower of Jesus Christ. It was proven that his life was utmost committed to live by the word of God with simplicity and quietness.

Completion of Masters in Education from the University of Middlesex in 2005 assisted him broadening his academic and curriculum know-how along with a gentle approach and broad-mindedness towards apprentices. Through the passage of time he held responsibilities of diverse of ministries substantiating his inborn competencies. Instead of confining himself to be an educationist he continued to be a silent activist and a man of principles. St. Peters College – Colombo 4, St. Joseph's College – Colombo 10 and St. Sebastian's College – Moratuwa were some of the institutes blessed to acquire his leadership. His Lordship is a leader with a great far sightedness and never once anyone noticed him to be a lopsided decision maker. He is very firm in maintain accuracy in all his undertakings, above all the privacy is maintained the top most.

His administrative capabilities have made him confident and highly admired by all the organizations he has worked for and it obviously elevated him to the successes where he is today. Priest of moralities and simplicity, strict disciplinarian, a fair verdict giver, privacy holder, silent activist are some of the ear catching catchphrases heard in diverse of notes of appreciation meant for him. All these further prove the scripture "as gentle as a dove and wise as a serpent"

We are certain that this trilingual speaker, a humble strategist will definitely assist leading the Catholic church in the correct direction to uplift the faith among thousands of believers in order to reach the ultimate destination- the Kingdom of God.
In salutation!!!!
Assuming onuses of
New ministry
To expound further the word of God
Opening the portals for thousands
Never to backpedal in the trudging.
Revered by all for your
Amicable nature inherent
Nurtured with the depth of
Jesus' teaching to the world;
Irreplaceable service to be rendered ahead
To the greater community reaching
Heaven - the Kingdom of God.
In acknowledgement of newly sanctified Bishop
His Lordship ANTON RANJITH
Episcopal Ordination of new Auxiliary Bishop today
The Episcopal ordination of new bishop-elect Very Rev. Fr. Anton Ranjith as the Auxiliary Bishop of Colombo will take place today, August 29 at St. Lucia's Cathedral, Kotahena. Because of the Covid 19 pandemic the holy Mass will be celebrated with a limited crowd.
A.S.Jayawardene
B.Sc.Bus. Admin. (USJP), PGDE(OUSL), MA (BPU)