---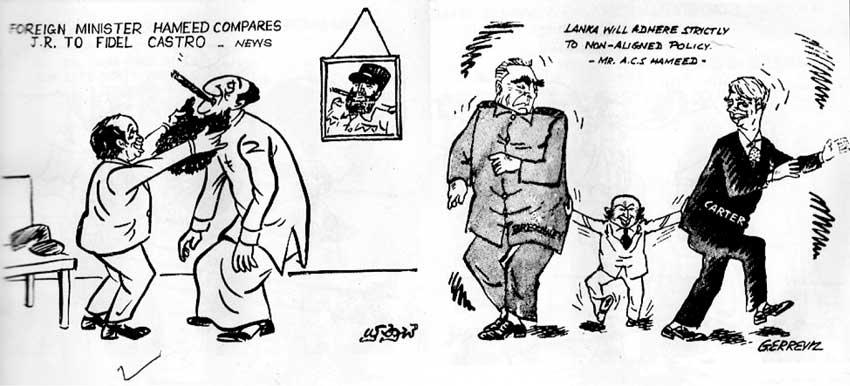 The Late Dr.A.C.S.Hameed was born on 10th April1929.
He represented Harispattuwa in Parliament without a break. from 1960-1999.
He was lucky to have been appointed as the first Foreign Minister in 1977.
He successfully carried through for 12 years as Foreign Minister till 1989.
Meeting Heads Of States Foreign Ministers it was was his duty to brief them on
The Late Hon: J.R.Jayawardena's open economy policy.

He had to deputize president J.R.Jayawardena during the Non Alignment Movement & this too made him to travel more.

People punned his initial A.C.S. as "all country service Hameed"

Dr. Hameed was fortunate to meet many famous Presidents & Foreign Ministers during his term as Foreign Minister & Deputy Leader Of Non Aligned Countries. His spare time activity was writing books which include
1) Foreign Policy Perspective Of Sri Lanka
2) In Pursuit Of Peace On Non Alignment And Regional Co-operation
3) The Owl And The Lotus
4) The Spring Of Love And Mercy –A spiritual Book

I like to quote a poem from the book " The Spring Of Love And Mercy "–A spiritual Book
"The spring of love and mercy"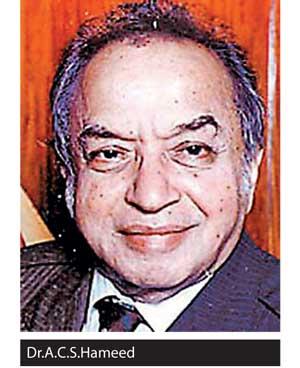 Oh Lord!
Give me an un –polluted heart
To keep malicious Evil apart
It will corrupt my desires
And set ablaze many fires
Make me strong
To dismiss falsehood
The bosom companion
Of Evil
A dangerous couple
They can topple
Resting rocks
And sleeping hills
Evil and Falsehood are cowards
Waiting for weak hearts
But when they see
Justice Truth and Reason
Oh Lord ! They flee
We pray all mighty Allah to bless him and find him a place in the Jennathul Firdouse
–Ameen.
Ghafoor (Brother)