---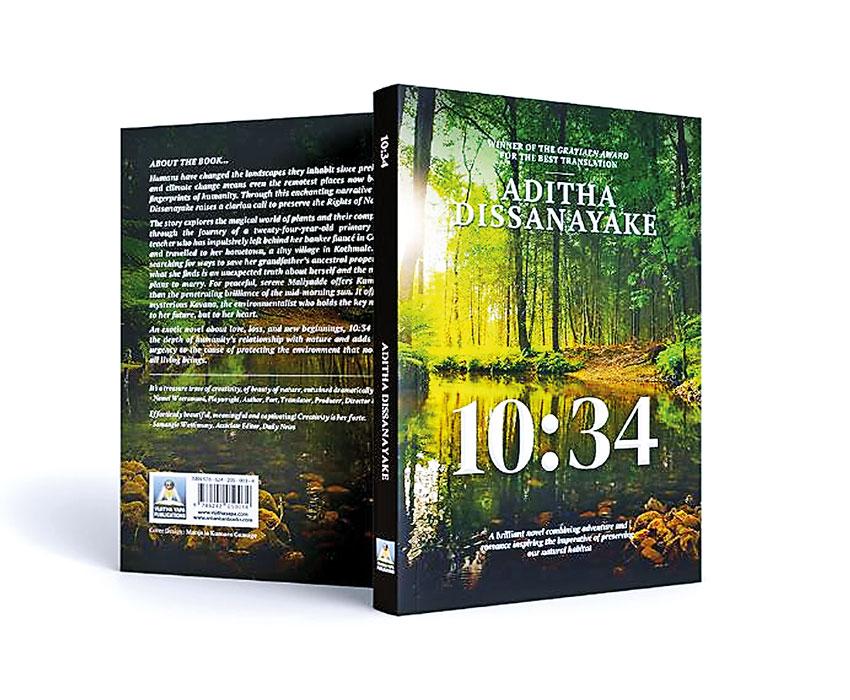 Aditha Dissanayake, 10.34, Vijitha Yapa Publications, Review by Nandasiri (Nandi) Jasentuliyana, Former Deputy Director-General, United Nations
10:34 is a dramatic love story of a poetic and tender quality written with a deep respect for both the beauty and the danger to our blue planet seen from space as a vulnerable blob in the vast universe.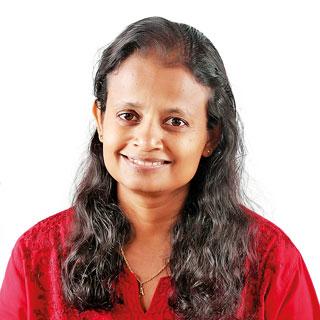 Aditha Dissanayake
---
It is a contemporary romance that follows a woman, a committed environmentalist, as she navigates her life among men with differing feelings of the imperative of conservation stewardship.
This book is Gratiaen Award winner Aditha Dissanayake's fourth novel, by far the best. This book is enjoyable to read due to the simplicity of the prose style and vividness of imagination. Though simple but thoughtful, the story is fun enough, and the unexpected twists and turns keep the reader engaged.
It is the story of two people finding love in unusual circumstances, albeit differently than either of them intended. Aditha narrates a twenty-four-year-old schoolteacher's unexpected detour of accompanying her banker fiancé and migrating to New Zealand. The deviation begins when Kumi alights the morning Udarata Menike to visit her hometown in the fictional village of Maliyadda on the banks of the Kothmale Oya.

She goes there directed by her Uncle in London to make the final arrangements to sell her grandfather's ancestral property. Kumi finds the dilapidated property a piece of heaven on earth. Lush greenery with a creek flowing through the property has become the perfect home for all that nature creates. An ideal home for her as well she realises.
She could hardly tear herself off from the allure of the place to return to Colombo, which she must, to see her fiancé off. He was going ahead to settle affairs in the new country they were moving to before Kumi arrives. During her vacation to her ancestral village, abandoning her plans to stay at the bed and breakfast place where she had an eventful night with an unexpected visitor, she moves into the abandoned house that had once belonged to her grandparents.
Kumi also struck a friendship with Vino Coomaraswamy, an editor of a publishing house in Lancaster, on holiday in Maliyadda, searching for his roots.

On return to Colombo, she finds her favourite mango tree that shaded her room and to its rustling sounds which she fell asleep in the night had been a victim of the insensitive confidant who failed to understand that perhaps her first love is nature.

The characters in this book are remarkable. The author shows a deep understanding of their roles and places them cleverly to keep the story moving

Incensed by the developments that followed and tugged by the spell cast over her by the sanctuary in Maliyadda, she makes an unintended quick return to the place she had felt at peace.
There, she finds comfort in her friends Vino and a Professor turned recluse whom she had met on her previous visit. The Professor was intruding on the property to record the often-ignored weeds and lesser-known plants in the mid-country for his next book.

Abandoning her plans to move to New Zealand with her urbanised banker boyfriend, she decides to make home the abandoned house that had once belonged to her grandparents. But in addition to preventing her Uncle from selling the land, Kumi must also prove to the Professor that she has no wish to harm the plants that he so loves.

Easily the best part of the book is how, as the story unravels, it becomes clear that Kumi and the Professor progress towards saving not only nature but themselves from their toxic relationships and past mistakes.

An essential aspect of the book is the author's tender, discerning look at nature that is ever-present and is the thread that runs through the novel. Aditha makes her characters very vibrant and three-dimensional and true to life. The main characters are compelling and enigmatic. Kumi is beautifully drawn – warm, bold, outspoken, intelligent, and kind to all living beings, whether human or part of nature, the type of character that carries an endearing story. Vividly portrayed, the men around her -- Nadush, bright and bold as an up-and-coming banker, Kavan, intelligent and warm as a professor, and Vinoo, intelligent and outspoken as an editor would be.

The characters in this book are remarkable. The author shows a deep understanding of their roles and places them cleverly to keep the story moving. There are also secondary characters introduced for a few cameos. Even some of those who barely appears to have a chance to shine, which tell us a lot about the storytelling.

The book is sprinkled with enjoyable dialogue, which is hard to write – and extremely hard to write well. Two people merely talking are not always engaging on the page, no matter how scintillating the dialogue. Novel writers are not screenwriters whose story is brought to life by an entourage of directors, actors, sound engineers, cinematographers. A novelist must describe the setting and provide all five senses for the reader. Readers will not know what things look like unless you show them.

Aditha's text reads like a screenplay. The conversation between Kumi and the Tuk-Tuk driver is such that a reader can hear it as if spoken aloud; the words do not lie inert on the page. When discourse flows, it's easy to read and understand; it's funny, revealing, poignant, and devastating all in one single sentence.

The story is interspersed with engaging dialogue, and that's part of what makes it effective. The dialogue is so catchy, so snappy, so utterly say-able, that the story could easily be made into a movie.

This is a wonderfully written novel with a captivating story that touches your heart, an engaging plot with so many twists, and endearing characters who were believable.

The book affirms the depth of humanity's relationship with nature and adds particular urgency to the cause of protecting the environment that nourishes all living beings. It is a delightful book.