---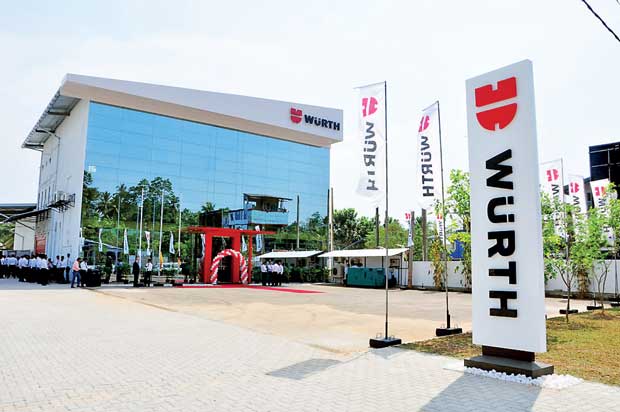 The Würth Group, the parent company of Würth Lanka (Pvt.) Ltd posted revenues amounting to EUR6.4billion during the first six months of the year 2017 which reflects a 7.8 percent growth in its worldwide sales.

Operating profits increased by 21.8 percent to EUR335 million during the same period and the total number of employees worldwide grew to 73,172 (December 2016: 71,391), an increase of 2.5 percent. The Würth Group employs 32,034 people in the sales force worldwide.

Würth also opened its 450th branch office, pick up shop in Germany during the period.

"No matter if it is our brick-and-mortar business, our e-shop or our many sales representatives - even the tiniest unit influences the Group's clout. Our challenge is to show the added value that we offer with each of our distribution channels and to motivate the customer to make use of them," said Würth Group Central Managing Board Chairman Robert Friedmann, to give an example for the strategic orientation of the trading group. Sri Lanka already boasts three such brand shops/pick up shops in Nugegoda, Kottawa and Negombo.

"The development of the operating result is pleasing. Thanks to growth of 21.8 percent, the Würth Group reports an operating result of EUR335 million in the first half of 2017," he added.

Furthermore, in celebration of the wife of Reinhold Würth who celebrated her 80th birthday on 18 July 2017, the Würth Group inaugurated the Carmen Würth Forum in her honor. The exclusive convention center located in Künzelsau, South Central Germany was designed by the firm David Chipperfield Architects. The multi-functional building, measuring approximately 11,000 square meters, will contain an event hall that can be divided into several rooms, the Great Hall with room for up to 2,500 visitors, and the Reinhold Würth Hall, a chamber music hall large enough for 600 people. In addition, it will feature a foyer and a terrace for evening events. The park in front of the forum offers enough space to host up to 10,000 guests.

"The sales growth achieved by Würth is impressive. We at Würth Lanka are proud to have been able to contribute positively to the overall results," said Würth Lanka (Pvt.) Ltd Managing Director Rohan Amirthiah. We contributed to the growth in sales, profits, and also increased the number of employees.