---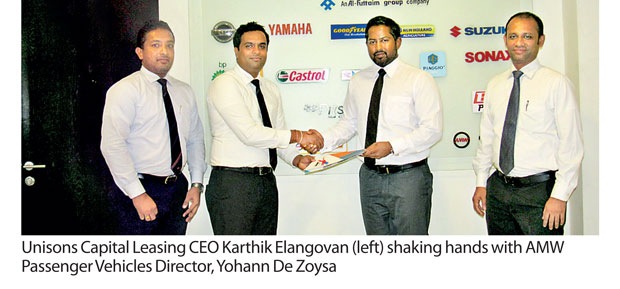 Associated Motorways (AMW), in partnership with Unisons Capital Leasing Limited (UCL), a specialised leasing subsidiary of Citizens Development Business Finance PLC (CDB), recently announced a range of exciting new leasing packages, with attractive benefits, for businesses or individuals seeking to purchase Yamaha motorbikes.

The range of bikes offered include Alpha, Ray ZR, Saluto, Fascino, the FZ range, Fazer and R 15.
Accordingly, UCL's lease rentals will be among the lowest in the market for a four-year lease, with the down payment also minimised to ensure an ultimate competitive edge.

Additional benefits include an air cooler or a smart phone, which are all a part of this exciting offer.
Yamaha dealers will also enjoy attractive cash prizes and all-expenses-paid trips to Singapore.
"We're happy to tie-up with Unisons Capital Leasing and offer one of the most appealing leasing deals in the industry, where customers will now be able to purchase Yamaha bikes at some of the lowest rates available in the market", AMW Passenger Vehicles Director, Yohann De Zoysa, said.

Endorsing this statement, Unisons Capital Leasing CEO Karthik Elangovan added "Yamaha is a global leader in the industry and their motorbikes are among the most popular in the world. We are proud to partner with Yamaha, a leading international brand, and AMW, a leading conglomerate in Sri Lanka, to offer cost effective leasing solutions to the market."

Yamaha and AMW have had a strong relationship spanning many years, with Yamaha being the market leader in the motorbike category in Sri Lanka for several decades.