---
For over 5 years, DIMO and TATA have enjoyed a successful partnership and maintained a reputed business stance in Sri Lanka with market leadership in commercial vehicles.
TATA Motors, the largest automobile company in India, has manufacturing operations spread across four locations in India and active presence in 46 countries like Sri Lanka, Thailand, Spain and even the UK to name a few. Ever since the brands entry to the Sri Lanka in 1961, TATA has proved popular amongst commercial vehicle customers, delivering reliable & affordable mobility solutions right from the popular 'Batta' to heavy trucks and buses.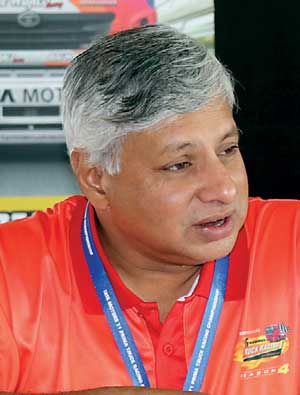 Riding on the success of the brand, the company looks to consolidate its position further & maintain its market leadership in Sri Lanka. Speaking on the subject at T1 Prima Truck Racing, New Delhi, India was Executive Director (Commercial Vehicles) Tata Motors, Ravindra Pisharody. Here are excerpts from an interview.
Why do you think Sri Lanka is an important market for TATA Motors commercial vehicles?
Well before my time with Tata, Sri Lanka was actually the first market to which we first exported our products in 1961. And this occurred through the distribution company DIMO. So, I believe that we have established a trusted link with Sri Lanka and the fact remains that the products we make here are very suitable for countries such as Sri Lanka because by and large the terrain is the very much the same and even though the entire country is surrounded by water, our land terrains are quite similar and so is the environment and work culture for example.
With a lot of the marketing that we have done and continue to do, there happens to be an overflow to our neighbouring countries. So, given that we have a 40 percent market share in Sri Lanka, which makes us the largest commercial vehicle company, Sri Lanka has no doubt become a very important market for Tata Motors and for us it is one of our sizeable markets to do business with. We also do value this relationship with DIMO which is a very enterprising company and we have been amazed to see their annual report. I believe that we have a lot of ambition in Sri Lanka.
As you might be aware of the recent tax hike to the SCV (Small Commercial Vehicle) segment, which has been drastically affected, what are your strategies to tackle this issue?
I must say that it had been a setback on learning of this tax increase, which we feel is quite high. But, from time-to-time there have been tax increases which had affected us greatly and this time it has been even more difficult because it would not only affect us alone but burden the customers excessively as the price has also shot up beyond their capacity. This would mean customers would be placed in a position where they would find it difficult to obtain a vehicle of their choice and budget. We have also noticed that the loan to vehicle ratio has also gone down so it would be even more difficult for customers to buy as limited finance is available. Policy makers need to understand a significant aspect of customer and product relation. Now, if you want to understand why the Tata brand had become so popular in India, it is because the brand had given semi-illiterate and illiterate people in India with an opportunity to become self-employed and start their own business instead of opting for smaller jobs.
So, the same concept was applied to Sri Lankan customers where small entrepreneurs were able to obtain a Tata vehicle and uplift themselves through their own business. Sadly, with a hike of this kind this opportunity would now be deprived for small entrepreneurs. On a short-term basis we are still looking ahead into how we can compete. We are compressing our margins whilst trying to remain available in the country and sincerely hope that the government would reconsider rolling back this duty increase considering that these are commercial vehicles which help in growing the economy and not cars or vans for personal use.
What are your plans for the new Prima truck in the country and how do you see it growing in the long run?
Prima has been around for a while but the market for extra heavy commercial vehicles is very small in Sri Lanka. We face a lot of competition from European Recondition Prime movers due to their price affordability & depreciation of the pound post Brexit.
Even though the Prima was launched in India a few years ago, people provided feedback saying that it did not entirely take off. This I would say was probably a wrong conclusion because by now, a few thousand vehicles have been sold and yes, in countries such as ours where trip time is an issue, it would be extremely profitable for a customer because the cabin is comfortable enough for a driver who would be in need of a lot of rest and many drivers along with their driving counterpart, can count on a driving trip for 20 hours a day. But, due to the limited infrastructure of narrow roads that has not really worked out but it has helped us stay ahead of our competition in providing a world class driving & ownership experience. So, when considering our European competitors, our product continues to be the best in class.
On the multi-axel trucks segment, we hope to launch the Prima Cabin very soon. With the introduction of products such as these, we hope to be address markets sensitive to pricing & initial acquisition cost. In addition to Prima, we have a new range called Signa which will be our mainstream product & compliment the Prima range which will be positioned as premium. Both Prima and Signa in multi-axel truck segment will be available in Sri Lanka & we hope for a good response to these going forward.
Through your partnership with DIMO, what do you look at in terms of a business outlook?
This is very much our model where we seek to go forward with a particular distributor in a territory and we encourage distributors to keep opening branches even in India. Many of our traditional distributors have been with us for over 60 years and we want to expand on these outlets.
Today, some of our dealers in India have opened between 30 and 40 outlets. Similarly along with DIMO, we are on the lookout to expand the current 41 outlets we have across the island. Our outlook is to cover the entire market & provide a superior as well as differentiated customer experience in sales and service. In DIMO we see the right partner in achieving this objective & thus we look forward to building on the strong bond we have.