---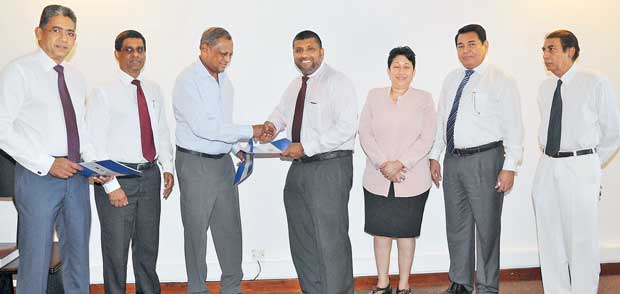 From left: Vice President of CCCC and Joint Chairman of the Ceylon Motor Show 2017 Organising Committee Clive De Silva, former Joint Managing Director SLI Keith Bernard, Chairman SLI Hemaka Amarasuriya, Chairman CMTA and Joint Chairman of Organising Committee Reeza Rauf, President CCCC Ramani Ponnambalam, Joint Managing Director SLI T.M.R. Bangsa Jayah and former President of CCCC and leading classic car enthusiast Bri Ponnambalam
A Memorandum of Understanding was signed by Sri Lanka Insurance recently with the Classic Car Club of Ceylon (CCCC) and the Ceylon Motor Traders Association (CMTA) whereby Sri Lanka Insurance Motor Plus was appointed as the title partner of the Ceylon Motor Show 2017.
The premier motor show in the island will take place from January 27-29 at the BMICH, Colombo.
This is the fourth consecutive time that SLI has tied up with this prestigious event. A large number of the latest vehicle models by 16 leading franchise holders as well as the largest collection of vintage cars will be on display at the Ceylon Motor Show 2017.
Sri Lanka Insurance Motor Plus, as the leading motor insurance provider, offers one of the most comprehensive motor insurance solutions in the market. Some of the benefits it offers policy holders are island-wide coverage, 24-hour service, flexibility in selecting the insurance plan of choice, third party claim settlements without any hassle and a dedicated and proactive customer care team.