---
Square44, the international design agency specializing in packaging, has been able to partner several great brands in Sri Lanka to pose a new look.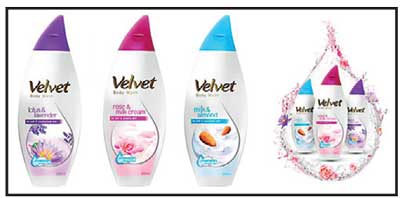 During the year 2016/17, one such project Square44 was involved in was the 'Velvet Launch /Relaunch'. "Velvet, a brand which has formidable presence in the Personal Wash Category expanded into other areas such as body lotion, body wash,along with the up –gradation of the two categories it was already present–beauty soap and hand wash.
A project which consisted of structural development as well as labeling design, was successfully completed with the brand introducing a whole new range to the market. A strong partnership developed during the period between the marketing, development teams at Hemas Consumer Marketing and team representing Square 44 enabled the achievement of this success.
Speaking on the experience, Fiona Jurianz Munasinghe–Marketing Manager commented: "Square44 is working closely with us on several very important packaging projects. We found the team very flexible and cooperative. They showed a fantastic ability to bring in fresh thinking from a packaging perspective. It was lovely to see their ownership and delightastheirdesignsbecamelive packaging in the market. With the outstanding packaging that has been created, we are confident that the brand can stand on its own anywhere in the world amidst global brands enabling our journey to the next level"
Commenting on the complex project, Sven Petersen –Director Square 44 said," This was a very involving and interesting project, we had to understand the brand andits equity fully from a consumer perspective prior to embarking on the work. It was complex as the designs had to consider structure as well as labels in multiple
Categories."
Speaking from a local perspective, Tusitha Kumarakulasingam– Brand Consultant Sri Lanka- Square 44 commented: "Packaging development is a challenge for local marketers,with the evolutions that we see in most categories, we can no longer ignore this very important element of the marketing mix.
Square44 is a"branding agency" established in 2005, working on consumer, retail and corporate brands operating in16 markets across Asia,touching over 2 billion consumers, through over300 clients, and 1000 brands.