---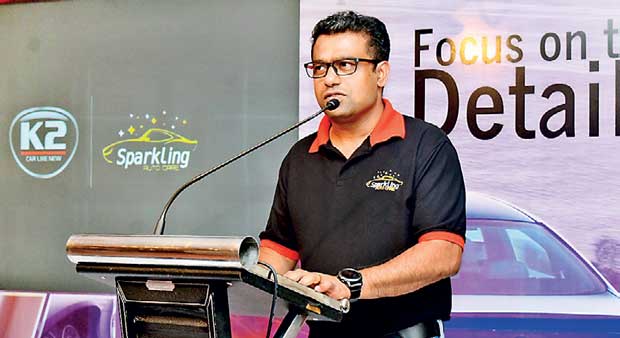 By Zahara Zuhair
To enable the customers to have great looking cars, Sparkling Auto Care (Pvt.) Ltd, introduced K2 car care products from Poland to the local car owners and car care professionals recently.
It provides an extensive range of car care products catering to a wide spectrum of everyday cleaning and maintenance requirements.
Sparkling Auto Care (Pvt.) Ltd, representative, T. Devanand said that they have products which caters from the air freshener to the extreme need
of vehicles.
"Our customers are assured of a fulfilling cleaning experience every time," the company said.
The products include air fresheners, motor oils, brake and radiator fluids, quick repair products and professional products for car wash, paint shops and car workshops.
The car care products for car owners include cosmetic products for the upholstery, paint work care, rims and tires, glasses and mirrors, engine wash and cockpit and interior plastic parts.
Further, it offers a range of fragrances such as bottled air fresheners, paper hangers and spray and trigger air fresheners.
For professional workshops, K2 offer lubricants, radiator and brake fluids and fuel and oil additives.
In addition, it was noted that it offers products for the car wash segment, such as plastic cleaner, car shampoo, engine cleaner and tar remover.
K2 Vinci fragrances include fresh lemon, ocean breezes, tropical aromas etc.
K2 Turbo represents a line of fluids for automobiles which are high quality, safe brake fluid and a highly reliable radiator fluid, plus oil and fuel additives of the same quality, it was noted.
K2 Texar, a line of modern engine oils developed using nano-tech, prevents damages to the cars drive unit by filling any micro caps and cracks that may appear, according to the company. K2Pro car paint products include workshop aerosols, abrasive materials, spray guns, electric and pneumatic equipment etc.
K2Pro workshop offers professional products such as technical aerosols, anaerobic adhesives etc.
The K2 brand which was created over 20 years ago, has its presence in over 60 countries, with sales of over 100
million units.