---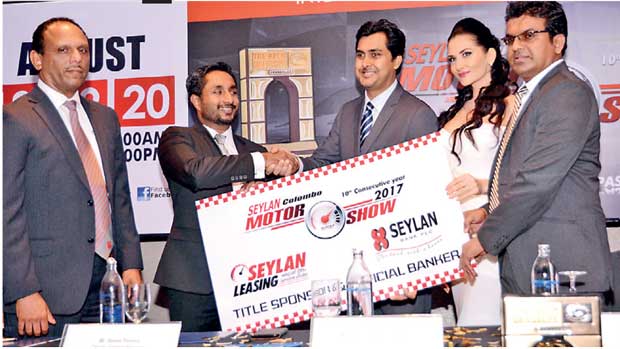 Seylan Bank Chief Marketing Manager Gamika De Silva handing over the title sponsorship to Asia Exhibition and Convention Chairman and Managing Director Tyrrone Chandrasekera and General Manager Subodha Basnayake. On the left is Consumer Finance Deputy General Manager of Seylan Bank Delvin Pereira. Pic By Pradeep Pathirana
By Supun Dias
Seylan Colombo Motor Show, the single largest automotive event in Sri Lanka will be held from 18 - 20 August at the Sirimavo Bandaranaike Memorial Exhibition Centre (BMICH) in Colombo with an expected crowd turnover exceeding the 100,000 mark during the three days.

This grand event which is held for the 10th consecutive year is organised by Asia Exhibition & Conventions (Pvt) Ltd with Seylan Bank coming onboard as the title sponsor for the third consecutive year.

Chairman of Asia Exhibition Tyronne Chandrasekara said, "We are proud to have carved a space for the sole purpose of creating awareness on a large scale about the innovative and rapid progress of the motor industry.

"The company which was established a decade ago has continued providing its diverse clientele with the most effective packages covering the whole spectrum of event management with unmatched flexibility, setting the client at ease from conception to completion," he noted at a media briefing held at JAIC Hilton.

Delvin Pereira, Deputy General Manager – Consumer Finance said, "Last two years we have powered this mega motor show as we want to establish our bank a leading player in the motor vehicle financing sector which has seen a decline in the financing aspect due to various regulations imposed by the government."

"However things have improved during this year and we want to stay ahead of our competitors in the motor financing sector. I would also like to invite the public to visit our stall at the Seylan Motor Show where we will provide you with on the spot, tailor-made leasing/financing facilities as we intend to build long lasting relationships with our customers,"
he added.

The Seylan Colombo Motor Show 2017 has gained a reputation as the region's truly international and the most influential automotive event bringing together global manufacturers, distributors, industry specialists, key-buyers as well as the affluent motor enthusiasts all under one roof, It is further viewed as a lucrative platform for the motor industry suppliers to showcase their latest products
and services.

With the objective of creating a progressive approach towards the global industry standards, the Seylan Colombo Motor Show 2017 will feature a wider variety of stalls and exhibitors along with a Motor Car Show, 4X4 Off Road Vehicles Show, Vintage Car Show Volkswagen and Mini Minor Car Show, Commercial Vehicles and Custom-Built Vehicles, Boats and Water Sports Vehicles Show, Body Kit and Accessories, Car Audio Video and Security Systems.