---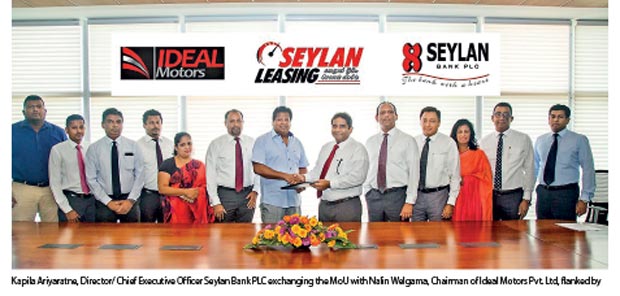 Seylan Bank partnered with Ideal Motors, the sole authorized importer and distributor of Mahindra vehicles, to offer customerstailor-made leasing solutions to purchaseMahindra's renowned Bolero trucks and other types of tipper trucks.

With the tie-up, eligible customers can now avail up to 90 percent lease on purchasing Mahindra's bolero trucks under the commercial category, thus fulfill their transportation needs without compromising investment plans.

Furthermore, Mahindra's Bolero trucks purchased through Seylan Leasing will enable customersto enjoy special interest rates, free vehicle registration, vehicle warranty up to 1-year or 50, 000 kms, free vehicles services up to 3 times and become the recipients of Seylan credit cards.

Commenting on the partnership, Delvin Pereira, Deputy General Manger Consumer Finance at Seylan Bank Plc said, "We are privileged to partner the largest distributor of Mahindra brand in Sri Lanka. With thispartnership, we have not only been able to offer convenient leasing solutions but alsoenable small and medium enterprise businessmen withthe best product in the market to expand their business services with confidence. Understanding the variations of different income levels, we have customized the repayment plan, thustaking away the added burden on heavy rental payments and providing sufficient time to focus on their businessactivities"
In addition, Seylan bank also provides different lease structures that can be customized to meet the cash flows of the borrower. With customized lease solutions, Customers can now pay a higher rental or bulk payment during the months with higher income to reduce the normal monthly rentals.

Commenting on the initiative Nalin Welgama, Chairman, Ideal Motors said, "We consider the tie-up with Seylan Bank, a great partnership which allows usto better position our flagship brand to a wider audience in a convenient manner.
With rapid business expansions taking place, we have the privilege to offer customers the best product in the market, thus help their businesses in years to come."

Mahindra's Bolero is known for its reliability and agility in any terrain condition. The truck is becoming fast popular among small and medium businessmen and has a strong track record in freight transportation in Sri Lanka.