---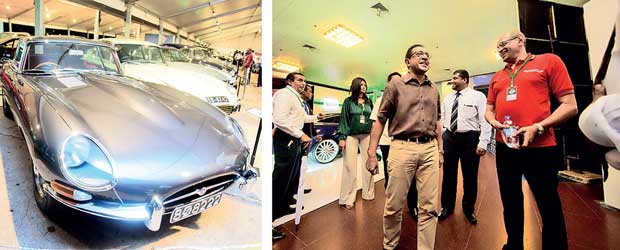 It was three days of fun, excitement and a chance like never before to see the leading automotive brands from across the world, all housed under one roof.
Motor enthusiasts from the length and breadth of the island used the rare opportunity provided by the Sri Lanka Insurance Motor Plus - Ceylon Motor Show 2017 to come and experience the latest developments in the automobile industry, cutting-edge designs and technologies introduced in the automobile world as well as marvels from a bygone era which had left their mark in the world of transportation.
The premier motoring event of the year presented by Sri Lanka Insurance Motor Plus and organised by the Ceylon Motor Traders Association (CMTA) and the Classic Car Club of Ceylon (CCCC), was held at the BMICH from January 27 - 29. Among the special invitees to the event was Minister of Public Enterprise Development Kabir Hashim.
Ceylon Motor Show 2017 attracted record crowds over the three days with over 23,000 visiting the show from morning to night, according to CCCC sources.
Cars, jeeps, and sports utility vehicles took pride of place at the event while motor-cycles, vans and other commercial vehicles too received much prominence and visibility. Over 25 leading franchise holders representing some of the top global brands (numbering over 60), exhibited their latest vehicle models at the show. Some of these franchise holders used the opportunity to launch their latest models to the Sri Lankan market, which were received with much enthusiasm by the visitors to the event. The vintage collection was a crowd favourite and the mostly American and European brands attracted large numbers to the stalls where these cars were on display. Overall, the Sri Lanka Insurance Motor Plus - Ceylon Motor Show 2017 is believed to have attracted almost double the number of visitors from the previous show.
This is the fourth year that Sri Lanka Insurance had tied up with this prestigious event which is considered as a 'must visit' in the calendar of every motor enthusiast. Among the special activities organized by SLI at this year's event were competitions conducted over its Facebook page with valuable gifts being presented to the winners, raffle draws, unique promotions and many entertainment activities.