---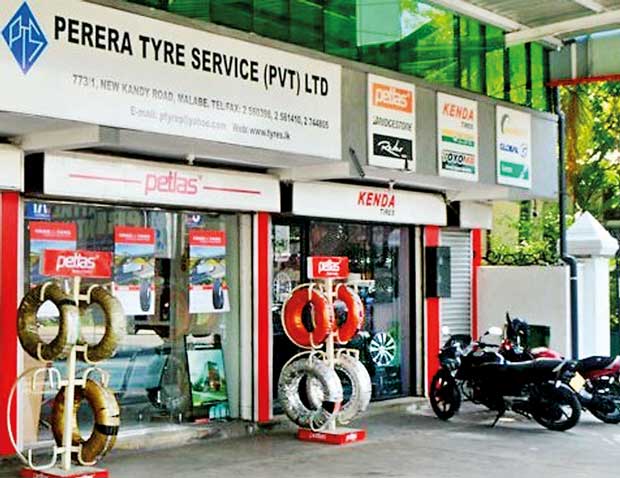 It is worthy writing of a company which has reached the apex in business within a period of time.
This company named Perera Tyre Service (Pvt) Ltd located at No 773/1, Talangama North, Malabe.
Perera Tyre Service Pvt Ltd which started its journey three decades back is accepted in the local market as well as international market has reached its zenith today. The company imports and sells tyres, tubes and alloy wheels under the brand names Petlas, Toyoma, Chaoyang, Sunful, Firemax, Maruti, Starmaxx for busses, passenger cars, jeeps, light commercial vehicles, industrial vehicles, tractors and all multy-utility vehicles. Today, the company is mainly focusing on selling more eco-friendly, cost effective green tyres and their suppliers are mainly from Turkey, Taiwan, Indonesia, Korea, India and China. Petlas pro-preen tyre is made of special compound to ensure low rolling resistance, long life and good breaking performance.

Also Petlas is the king of industrial and off road tyres and is an ideal investment for any budget conscious institution or industrialist. Petlas has won almost all European and international accreditation certificates for its excellent quality. Choayan tyre imported by the company is China number one tyre company while Starmaxx - Korea and Maruti tubes - India have achieved world recognition. Since the start company has built business using honesty hard work and customer satisfaction as cornerstone during the past thirty years. The company has developed a large market share for Its products and Perera Tyre Service has a very strong dealer network including dealers, distributors and retail customers covering the entire island. Considering the increasing customer needs, the company has opened branches in Battaramulla, Kaduwela, Kuliyapitya and its tyre retreading factory is located at Athurugiriya. Perera Tyre Service Pvt Ltd has a devoted staff committed to customer Service.