---
REUTERS: Nissan Motor Co Ltd will appoint its Chief Executive, Carlos Ghosn, as Chairman of Mitsubishi Motors Corp as Japan's second-biggest automaker is set to buy 34 percent of its smaller peer, the Nikkei newspaper reported yesterday.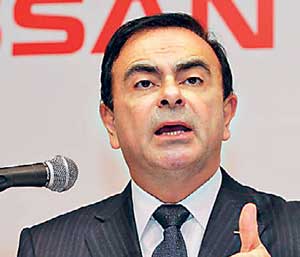 Ghosn, who also serves as CEO of Renault SA, Nissan's alliance partner, has asked Mitsubishi Motors Chairman and President Osamu Masuko to remain president when Nissan takes a controlling stake in an automaker recovering from a mileage-cheating scandal, the Nikkei reported.
Spokespeople at both companies declined to comment. Shares of Mitsubishi Motors rose as much as 10 percent after the report.
Nissan in May said it would buy control of Mitsubishi for around 237 billion yen
(US $2.3 billion) after Mitsubishi admitted to falsifying the mileage on four minivehicle models, including two produced for Nissan.
The admission prompted a sell-off of Mitsubishi Motors shares.
In August, Mitsubishi Motors was also found to have overstated the mileage of eight additional models, including the Pajero and Outlander sport utility vehicle. The automaker blamed poor communication, lax governance and internal pressure for its lack of compliance.
After Nissan's purchase is finalised, Mitsubishi group companies - trading house Mitsubishi Corp, Mitsubishi Heavy Industries Ltd and Bank of Tokyo-Mitsubishi UFJ - will see their total shareholding diluted to around 17 percent.
Nissan has said it will refrain from selling its stake to a non-group company for 10 years without Mitsubishi Motors' consent.
Mitsubishi Motors will make a formal decision on executive appointments after a shareholder meeting in December, the Nikkei reported. Nissan is set to close the deal by the end of the year.