---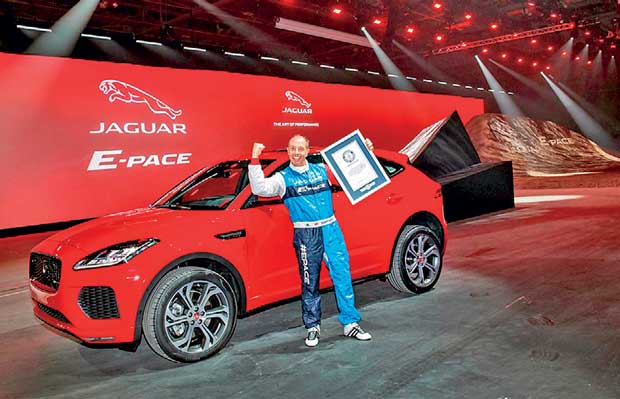 The new Jaguar E-Pace has set an official Guinness world record title during its world premiere.
The compact performance SUV leapt into the record books with a 15.3 metre-long jump complete with a 270-degree corkscrew-like 'barrel roll'.

Demonstrating the agility, precision and performance of Jaguar's newest SUV, the feat was the final test for E-PACE after 25 gruelling months of work across four continents to ensure extreme durability and that it lived up to Jaguar's Art of Performance philosophy.

The Jaguar E-Pace is a five-seat, compact SUV that packs the design and performance of a Jaguar sports car into a spacious, practical and connected all-wheel-drive vehicle.

Trademark Jaguar driving dynamics and design put the brand's sports car DNA in a practical design packed with advanced technologies to keep you connected.

The E-Pace is the newest member of Jaguar's SUV family, joining the ground-breaking all-electric
I-Pace Concept and the 2017 World Car of the Year, the Jaguar F-Pace –itself launched with a spectacular Guinness world record setting loop-the-loop in 2015.

The exterior design is inspired by the Jaguar F-type sports car and characterised by the distinctive Jaguar grille, muscular proportions, short overhangs and powerful haunches that give the E-Pace a bold and purposeful stance, instantly communicating dynamic agility. Jaguar sports car DNA is also evident in the fast sweep of the roofline and the distinctive side window graphic.

Ian Callum, Director of Design, Jaguar, said: "Established Jaguar design principles ensure the E-Pace is immediately recognisable as the sports car of its class. Our new compact SUV combines the interior space, connectivity and security that families expect with the kind of proportions, purity of design and performance not usually associated with such a practical vehicle."

Guinness World Records adjudicator Pravin Patel said: "This amazing feat really was a sight to behold. While I've seen the barrel roll stunt in film, witnessing this incredible feat in real life was something pretty special. Congratulations to Terry and Jaguar for setting another epic Guinness World Records title."

The reveal of the E-Pace was followed by a spectacular musical performance by Pete Tong and The Heritage Orchestra who presented the now legendary Ibiza Classics. As a celebration of the new Jaguar E-Pace, Pete collaborated with singer-songwriter Raye to perform "You Don't Know Me" by Jax Jones - a hit that features Raye that has over 230 million plays on Spotify and over 130 million YouTube views.

Pete Tong said: "I've been working with the Heritage Orchestra for the past couple of years but this is the first time I've been involved in something like this, it's very exciting and I'm glad to be apart of it! Jaguar breaking the Guinness World Record for the barrel roll was mind-blowing. This creative approach to revealing the new Jaguar E-Pace was the inspiration behind the collaboration between myself and Raye and we are now planning to put the track on my
new album."