---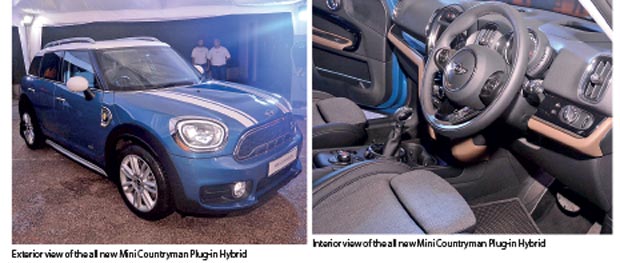 By Harshana Sellahewa
Prestige Automobile (Pvt.) Ltd recently launched the all new versatile, agile and electrifying Mini Countryman Plug-in Hybrid, to the Sri Lankan market at a launch event held at Hilton Colombo.

Introduced in 1959 by the British Motor Corporation (BMC), the ownership of the Mini brand has been passing on from BMC (1959-1968) to British Leyland (1968-1986) to Rover Group (1986-2000) and finally to BMW (2000-present), where Jochen Goller of BMW currently serves as the Managing Director of the Mini marque.

Being the first ever Mini Plug-in Hybrid, as well as offering sportiness on the road and beyond asphalt, it also offers the possibility of purely electrically powered driving, generating zero local emissions.

Commenting on the launch of the Mini Countryman Plug-in Hybrid, Prestige Automobile (Pvt.) Ltd Director Jan-Christian Reuter said: "The Countryman is the adventure of the Mini family, and it is all about adding stories to your life. It is a vehicle made for Sri Lanka and is eager to go and explore this beautiful country. Whether its to the beaches or mountains or your urban day-to-day drive to your office, this Mini Countryman will make every trip exciting."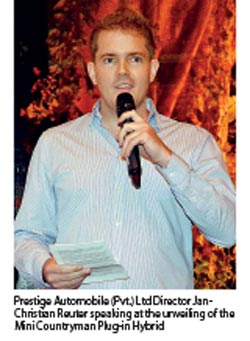 The Mini Countryman Plug-in Hybrid features a clever combination: A three-cylinder 136hp/100kW Mini Twin Power Turbo petrol engine with a 6-speed Steptronic transmission powers the front wheels. The 88hp/65kW electric motor directs power as required - or if desired - to the rear axle, using electricity stored in a high-voltage battery. As a result, the car has electric ALL4 all-wheel drive.

Prestige Automobile (Pvt.) Ltd Mini Head Geeshan Wijenayake said: "We are thrilled to offer the new Mini Countryman Plug-in Hybrid to Sri Lanka. It has a powerful expressive design, efficiently shaped bodywork and unmatched driving agility. Mini has a strong following in Sri Lanka and we believe the new Mini Countryman Plug-in Hybrid is the car they have longed to drive everyday, everywhere."

Adventure is just around the corner with the most versatile Mini to date. The new Mini Countryman is packed with robust performance, ample room for five, and plenty of space for new memories.

With the go-kart feeling and powerful Twin Power Turbo Engine Technology, the journey will be a breeze.

Prestige Automobile (Pvt.) Ltd is the sole authorised importer and distributor of BMW, BMW i and Mini brands in Sri Lanka, with a history spanning over two decades. Prestige Automobile's latest workshop in Battaramulla is the only BMW-certified work centre in the country which offers high-end services for BMW, BMW i and Mini vehicles.