---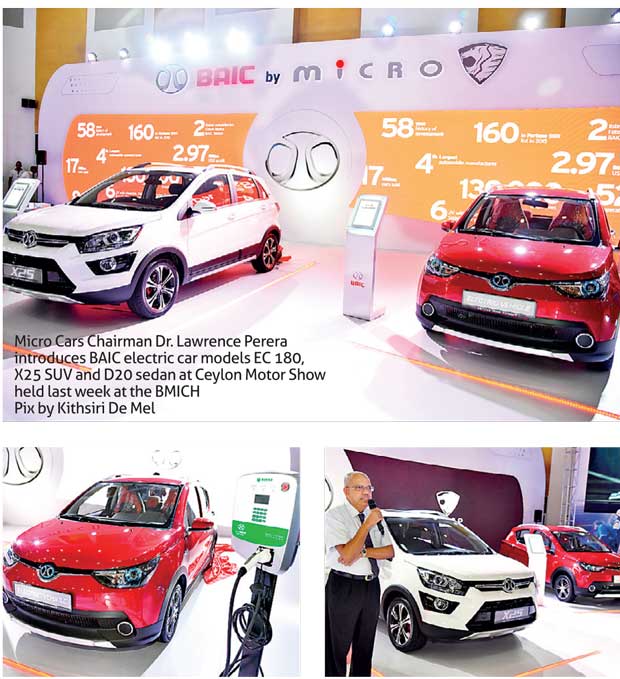 By Supun Dias
Micro Cars together with the Chinese auto giant, BAIC, introduced three of its highest selling models to the Sri Lankan market at the Ceylon Motor Show, which was held at the BMICH recently.
The BAIC electric car model EC 180, X25 SUV and D20 sedan were the three models introduced. BAIC is a Fortune 500 Company, which commenced operations in 1958.
Micro Cars Chairman Dr. Lawrence Perera said that in the late 1960s the late Uplai Wijeyawardena timely started assembling the Upali Fiat and Mazda.
"You may not know that the first Mazda plant outside Japan was set up in Sri Lanka. Due to the inconsistent policies of the governments, he could not carry it forward. If these problems didn't arise, we would have been ahead of India, Korea and even China," he highlighted.
"We, as Micro, have come a long way and we are very happy that a giant automaker in China – BAIC has recognized us as a leader in this industry in order to introduce a wide range of vehicles to the Sri Lankan market," he said.
"Although our name is small, we are a giant. We have done things the other companies haven't done. The mission of Micro is to provide an affordable car to the Sri Lankan market. Micro Panda was a success. It is because we look at the safety of all the stakeholders. We don't provide cars with poor conditions. With the right support of our customers, we plan to go to the next level of entering the regional markets," he added.
The X25 SUV exhibits the youthfulness with its interior and exterior design. It has a high-performance engine and a sophisticated break system powered by Bosch.
The D20 sedan is well equipped with a sizable 450L boot space backed by Swedish automaker SAABs technology.
The EC 180 is the first attempt by Micro to assemble the first electric vehicle in Sri Lanka.
The X25 SUV is priced at Rs.4.2 million and the D20 sedan is priced at Rs.3.8 million as a very special market introductory price.