---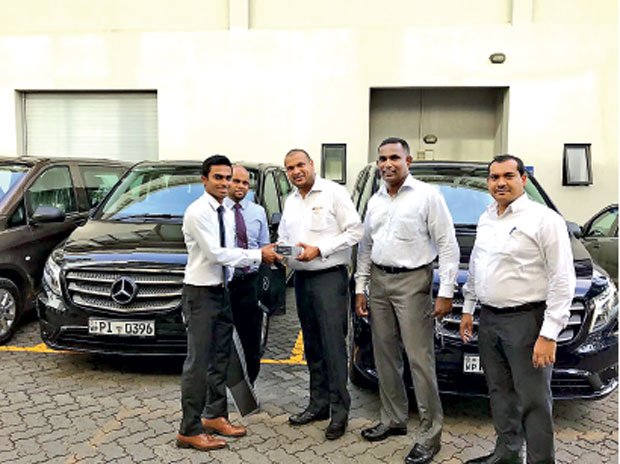 The Mercedes-Benz Commercial Vehicle team of Diesel and Motor Engineering PLC (Dimo) recently handed over the keys to a fleet of three premium Mercedes-Benz Vito vans purchased by the Management of Aitken Spence Travels.

Considering the rapid development and increasing demand in tourist activity in the country, super luxury and comfort transportation for foreign visitors has been a developing requirement, thus the Mercedes-Benz Vito is now a preferred choice in the industry.

Aitken Spence Travels is the leading destination management company in Sri Lanka which served over 153,000 foreign visitors in the last financial year. The company is partnered by TUI, the world's largest tourism integrated company and commands market leadership in Sri Lanka. Their customers who travel from the four corners of the world are guaranteed safety, comfort and superior service when travelling with Aitken Spence Travels. Thus, it is believed that the new additions to its fleet will enhance the service quality offered by Aitken Spence Travels.

Commenting on the handover ceremony, Mercedes-Benz Commercial Vehicles Business Unit Manager Shamal Fernando said, "Mercedes-Benz is synonymous with luxury, comfort and safety. Therefore, we believe the Vito vans being used in the tourism and travel sector would not only enhance the business of Aitken Spence Travels but will also uplift the profile of customers and further ensure customers to reach their destinations in a safe, comfortable and luxurious manner. Moreover, the Vito vans run on low running costs which minimize the cost of maintenance thereby offering interested customers to experience the vehicle's fullest potential. Furthermore, the Vito vans are offered with a first year maintenance completely free with 15,000 kilometre servicing intervals, and the Vito is the perfect blend for the tourism sector for best return on investment. Evolving into the tourism sector is a testament that large scale businesses are acquiring the services of Mercedes-Benz to further their business ideals. We believe that this trend will continue as safety, comfort and luxury are a key elements that drive our brand."

The Mercedes-Benz Vito, a lavish brand in itself also comes with a 24hr road side assistance service provided by Dimo, with a 16 kilometre per litre fuel usage with first year vehicle services completely free.