---
The all-new Mazda CX-9 is a purpose-built family hauler with three rows boasting a turbocharged four-banger with 3,500 pounds of towing capacity and a tightly tuned suspension.
You could opt for the sport version at US$31,520, but with its hand-carved Japanese rosewood interior, real Napa leather touches, aerospace aluminum accents, premium Bose audio system, and gratuitous tech and safety features, there's plenty of reason to plop down US$45,000 for the top-tier Signature edition.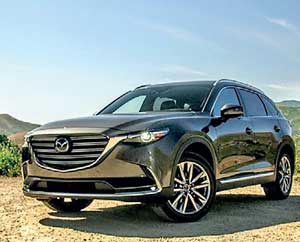 Mazda's Chief designer Julien Montousse has taken the SUV game to a new level with the CX-9, as piped LED lamps, understated fog lights, trapezoidal arches, and chrome accent lines etch their way into lamp assemblies to make a multi-dimensional effect.
With its long, sloping hood leading downward toward horizontal grille staves, and a roofline that flows backward between integrated aluminum roof rails, we stand by our opinion that this is the most most attractive Asian SUV on the market today.
Opting for a turbocharged SkyActiv 2.5-liter engine with four cylinders was a huge gamble for Mazda. While it will run on regular, dumping in 93 octane and flipping the sport switch noticeably boosts performance gains within the walls of 310 pound-feet of torque and 250 horsepower. All six gears shift fluidly, sending power to all four corners, as Mazda's clever i-Activ AWD system constantly transitions to ensure the best traction and performance gains possible.
The third row seating is designed mainly for smaller humans, which shouldn't be much of a surprise. The quality of materials used and the way in which it's all put together propels the CX-9 to European luxury levels. Whether you're looking for a performance- or practicality-oriented SUV, Mazda has done a great job of making this cabin both family-friendly and driver focused.
Under Colonial Motors Ceylon Ltd, all Mazda vehicles including the award winning Skyactiv Technology incorporated vehicles-The Mazda 6, the Mazda CX5, The Mazda 3 -2017 model (just launched while Mazda CX9 will be introduced to the market in the near future), come standard with Mazda total care – 3-year/100,000km warranty, 3 –year/100,000km free road side assistance, 3-year/100,000km free diagnostics.
Colonial Motors Ceylon Ltd is the new importer and distributor of Mazda automotive products in Sri Lanka and the Republic of Maldives. Colonial Motors also imports and distributes Mazda2 subcompact, Mazda3 compact, Mazda6 executive sedan, CX5 compact SUV, BT50 pickup and the iconic roadster MX5 in
Sri Lanka.