---

From left: Rajat Proothi Senior General Manager Truck and Bus Division of Mahindra and Mahindra Ltd India, Andrew Jackson Director Ideal Motors, Sanjay Jadhav – Vice President Head of International Operations South Asia of Mahindra and Mahindra Ltd India, Nalin Welgama, Chairman Ideal Group, Aravinda de Silva, Deputy Chairman Ideal Group, Chaminda Wanigarathna Director Automotive Ideal Group, Maruti Mathur Senior General Manager Construction Equipment Business of Mahindra and Mahindra Ltd India, Chaitanya Kagalkar Country Manager Sri Lanka of Mahindra and Mahindra Ltd India and Malaka Vehella, Deputy General Manager Truck and Bus of Ideal Motors
By Zahara Zuhair
India's Mahindra and Mahindra Ltd. in partnership with Sri Lanka's Ideal Motors Ltd., last week marked its entry into three new business segments in Sri Lanka, diversifying into truck and bus, construction equipment and powerol businesses.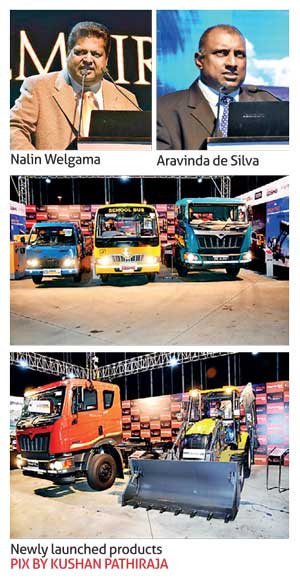 Ideal Motors also announced its plans to further expand to five additional locations over the next six months, which currently has trucks and bus showrooms in Colombo, Kandy and Yakala.
The bus and truck products launched were; Blazo truck range, Traco 40, Torro 25-Tipper, Loading Optimo and buses. They entered into the construction equipment business with Earthmaster SX 4WD and powerol business with diesel generators from 7.5 kVA to 200 kVA.
Speaking at the launch held last Thursday Ideal Motors Ltd, Chairman Nalin Welgama talking about their success said that what they did different to others in the industry was they focused upon after-sales services.
"We didn't just sell a car; we sold a vehicle to our valued customers ensuring their prosperity. As a caring company we made sure our after-sales set up was strong," he said.
He said that their objective is to offer world-class products to their customers at competitive prices.
He said that so far they have sold 50,000 units during their eight-year partnership with Mahindra, and was hopeful of their success in these new segments too.
Mahindra and Mahindra Ltd, Head of International Operations - South Asia Vice President, Sanjay Jadhav, said that they are confident that their new range of products will set new benchmarks and help them to further entrench brand Mahindra in the Lankan market.
As Sri Lanka has strategic importance for Mahindra in the South Asian region, he said that Mahindra vehicles have carved a distinct niche for themselves in Sri Lanka with their unique combination of rugged utility and style.
Since 2009, Ideal Motors has been the sole authorized distributor for Mahindra's motor vehicles and motor cycles in Sri Lanka.
Today Mahindra has emerged as the market leader in below one tonne category with over 50 percent market share, and maintaining 35 percent market share in below one tonne category.
The Mahindra group has interests in automotive, farm equipment, defence, real estate, IT, and hospitality.
Already it offers products in automotive sector, farm equipment sector, agri business, construction equipment in Sri Lanka.
According to the facts that were shared, it was noted that Mahindra is the world's largest tractor company in terms of volumes sold as well as it is the number one selling SUV/ pickup brand in India.
The US$ 17.8 billion company was founded in 1945 as a steel trading company.
The Ideal Motors (Pvt.) Ltd, is a fully-owned subsidiary of the Ideal Group, is a diversified group with interest in automobiles namely, Mahindra four wheelers and two wheeler, Cherry Automobile, SsangYong, and with interests in automobile spare parts, finance, solar energy, tyres, transport, logistics and vehicle hire.
It was noted that the group turnover of the Ideal Group is currently in excess of US$ 150 million per annum.