---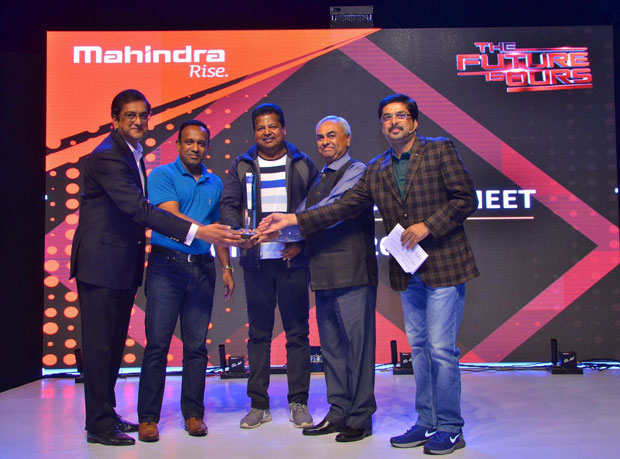 Chairman Ideal Motors Nalin Welgama and Director Automotive Chaminda Wanigaratna receiving the award from Praveen Shah – Chief Executive International Operations, Sanjay Jadhav – Vice President, Head of International Operations South Asia and Arvind Mathew – Senior Vice President, Africa and
South Asia
Ideal Motors (Pvt) Ltd, a fully owned subsidiary company of the Ideal Group and has been representing Mahindra & Mahindra since 2009, with core business interests in Motor Franchise Imports and Motor Spare Parts in Sri Lanka, claimed the number one position, defeating 72 other global distributors at the recently held Mahindra Global Distributor Meet in Madawa, India .
"Our vision at Ideal Motors is to strive to be the most trusted, innovative, and respected brand in the industry, focusing on total commitment to our customers and employees right from the start", said Chairman Ideal Group , Nalin Welgama.
Ideal Motors the trusted Sri Lankan partner of Mahindra and Mahindra won two prestigious awards, namely that of the 'Largest overseas market' as well as the 'Best network coverage' in sales, service and spare parts.
The glitzy event whose theme was 'The Future is Ours' included a beam show, conference, celebrity performances, 3D laser storyboarding, a 'Great Escape Car Rally' and many other events .Chairman Ideal Group, Nalin Welgama said he was delighted at Mahindra's performance and said it was an honour to represent such a prestigious brand. "As the sole authorized distributor of Mahindra we are committed to establishing the "Mahindra" brand in Sri Lanka with particular emphasis on Island-wide vehicle Display Showrooms, service, repair and spare parts availability".
Last year Mahindra became the only Indian brand in Sri Lanka to be featured amongst the Top 10 Indian Brands in the 2016 Best Indian Brands Report released by Interbrand, the world's largest and most influential brand consultancy. Mahindra was placed 9th in the ranking with a Brand Value of Indian Rs. 156.78 billion, having displayed a growth of 14 percent. With 14 new products last year, no one can accuse Mahindra of takings things easy or taking its foot off the pedal. A US$17.8 billion global federation, Mahindra's brand value is up 14 percent.