---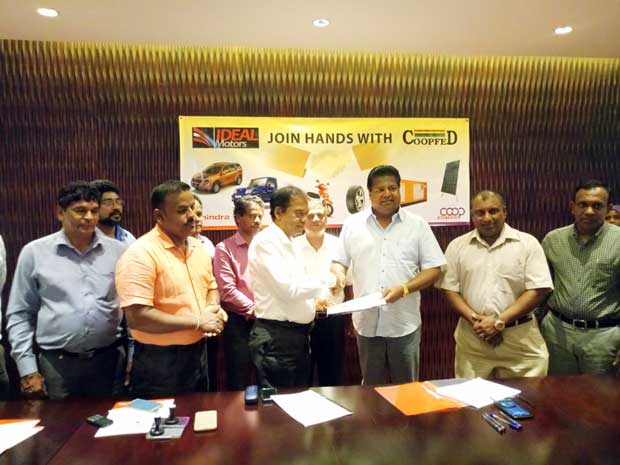 Ideal Motors partnered with the Consumer Cooperative Societies Federation of Sri Lanka Ltd (COOPFED) in a landmark venture whereby the entire range of Mahindra commercial and passenger vehicles, as well as all products marketed by the Ideal Group of companies will be available at attractive discounted prices to the combined membership of all 300 facilities of the COOPFED members of all nine provinces, numbering eight million.

This historic agreement was signed at a ceremony held at the Ideal Motors Head Office by Chairman Ideal Group, Nalin Welgama and senior officials of the COOPFED . With this we are expected to offer special financial support to COOPFED.

"This landmark agreement which is for a period of three years is available to the entirety of the COOPFED membership and it can only be a win-win situation for both organizations", said Welgama.
"The Ideal Group leads in both sales and aftermarket infrastructure
throughout Sri Lanka. Our association with COOPFED will surely complement this, allowing us to serve their members in all provinces", said Aravinda de Silvia, Deputy Chairman of ideal Group.
The Sri Lanka Consumer Cooperative Societies Federation Ltd was registered on 15 September 1989 as the apex federation of the Consumer Cooperative Movement in Sri Lanka and commenced its business operations on 7 March 1990.

The need for an organization at the center to assist the Consumer
Cooperative Societies was felt, hence the establishment of the Cooperative Federation with the contribution of the state. Its main purpose being to supply the consumer requirements of the member multi purpose Cooperative societies throughout Sri Lanka. The COOPFED has gone a step further by opening up self-service shops in urban and rural areas as well as welfare shops in government offices and schools to further facilitate the purchase of goods at controlled prices.

Since November 2009, Ideal Motors have been the sole authorized distributor for Mahindra motor vehicles and motor cycles manufactured by Mahindra & Mahindra Company Ltd India. To-date Ideal Motors have sold over 60,000 vehicles in the country and today, Mahindra has emerged as the market leader in the above one tonne category with over 50% market share, whilst maintaining a 45 percent market share in the below one tonne category.

The group turnover of the Ideal Group is currently more than US$ 150 million per annum.