---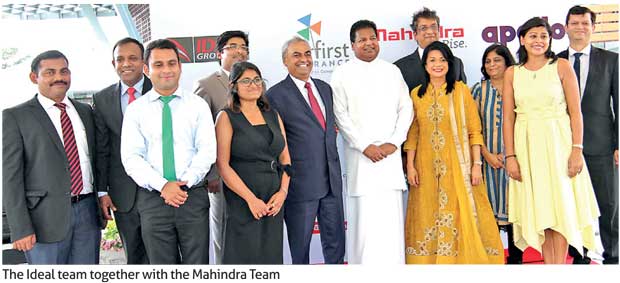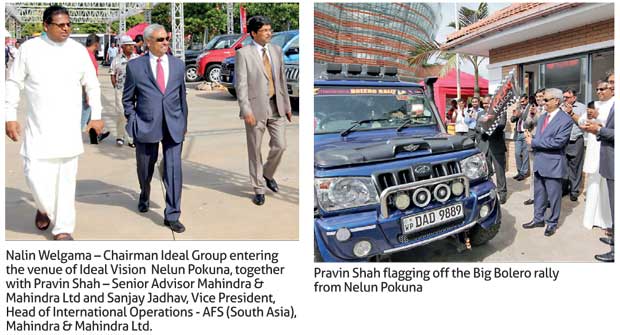 Mahindra & Mahindra Ltd., a part of the US $19 billion Mahindra Group recently showcased its full range of global mobility solutions at Ideal Vision, driven by Mahindra, a first of a kind lifestyle auto show, held between July 15 and 16 in Colombo.

As a unique umbrella, the event showcased the entire global range of 2 wheelers to passenger vehicles to electric vehicles to pickups to trucks and buses from the Mahindra stable alongside other businesses of the Ideal Group.

The product display included Mahindra's popular SUVs, namely the TUV300, a Powerful SUV and the XUV500, a new age Premium SUV built for the achievers. In the double cab segment, Mahindra also launched its 4x4 Mahindra Pikup for the first time in the global market, along with the new Big Bolero pick up, with bigger features and benefits and the Alfa Plus, the 3-wheeler carrier.

In the medium and heavy commercial vehicle segment, the company showcased its Cosmo bus and Optimo tipper. Mahindra also marked its entry in the segment of electric mobility solutions with the showcase of its all electric city car, e2o. In the 2-wheeler segment the company launched the bold and stunning Mahindra Mojo motorcycle.

An experience created exclusively for the customers of Sri Lanka, the Ideal Vision show, driven by Mahindra, gave a chance to experience brand Mahindra and Ideal Group in its entirety. It distinctly helped build the tough & rugged DNA of Mahindra vehicles through some engaging display and acts. In addition, there were other entertainment zones for children and adults alike. Speaking on the occasion, Arvind Mathew, Chief of International Operations -, Mahindra & Mahindra Ltd, said, "The Ideal Vision Show, driven by Mahindra is the perfect opportunity to showcase Mahindra's global range of mobility solutions to the people of this island nation. Sri Lanka has been one of our top 3 export destinations for the past few years. Here our Mahindra vehicles have carved a distinct niche for itself with its unique combination of tough and rugged utility and style. I am sure that this new property will further enable us to highlight our offerings, gauge the aspirations of our customers and help us connect with our customers by entrenching brand Mahindra in this market"

Speaking on the occasion, Nalin Welgama, Founder and Executive Chairman Ideal Group, said- "Throughout the year there are several motor shows. However, for the first time in Sri Lanka, we will be showcasing the range of vehicles marketed solely by Ideal; a step taken by no other automotive major. We are also proud to be the first auto major in Sri Lanka to introduce a franchised electric vehicle from the house of Mahindra, a global conglomerate which manufactures the widest spectrum of automobiles ranging from the 2 wheelers, 3 wheelers, light trucks, heavy trucks & buses, UVs, construction equipment, SUVs and cars". Welgama went on to say that an impressive line-up of electric vehicles from Mahindra will be introduced in the next few months in keeping with current world trends."

Sanjay Jadhav, Vice President, Head of International Operations - AFS (South Asia), Mahindra & Mahindra Ltd, said. "It is a proud moment for us to partner along with Ideal Motors in 1st of its kind Lifestyle Auto Show in Sri Lanka. It further strengthens our position and commitment as brand in this island nation. Being a leading automotive player in the market it has always been our endeavor to lead the way and create a compelling value proposition in an otherwise crowded segment. We are a global brand, expanding locally in Sri Lanka. We have appointed Sagar Bhadkamkar, as the country head for Sri Lanka Operations, along with on-ground team to focus on needs and aspiration of the consumers of the island nation and we will be soon opening our local office in Colombo."

Amongst the others associated with Ideal Vision - A Mahindra Lifestyle Show are Platinum sponsors Fairfirst Insurance, together with a host of other sponsors which include Seylan Bank, Nawaloka Hospitals, Abans, Kandos, Valvoline, Stafford Trading, Causeway Paints
and Sinwa.