---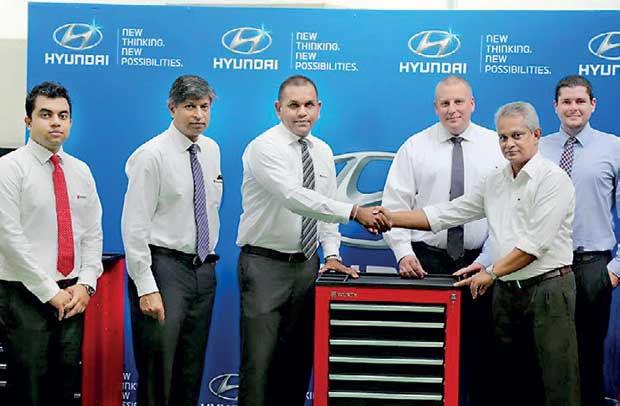 Front row from left: Wurth Lanka Sales Executive Gayan Pothupitiya, Wurth Lanka Managing Director Rohan Amirthiah, Wurth Lanka Regional Sales Manager Prasanna Mayadunne, Hyundai Lanka AGM After Sales Sandeep Katapearachchi; back row from left: Prestige Group Director After Sales Volker Arnkens and Hyundai Lanka Director Julian Reuter
Hyundai Lanka (Pvt.) Ltd recently upgraded its repair, maintenance and service workshop with state-of-the-art, customized tool trolleys from Würth Lanka (Pvt.) Ltd, the Sri Lanka subsidiary of Würth Gmbh, Germany.
Hyundai Lanka is the sole authorised agent for Hyundai vehicles in Sri Lanka and has been in the forefront of providing high-quality repair, maintenance and services to Hyundai customers since its inception regularly investing and upgrading the facilities at its workshop.
The recent upgrade of the workshop tools and equipment with the Würth tool trolleys is another step and commitment by Hyundai Lanka (Pvt.) Ltd to the Hyundai brand in Sri Lanka. The investment in the state-of-the-art tool trolleys from Würth will further enhance the level of customer satisfaction currently being enjoyed by Hyundai vehicle owners in Sri Lanka.
"The increasing Hyundai population in Sri Lanka demands that the after sales are in top gear and worker productivity is enhanced by investing in the right tools and equipment. We want to ensure that each and every Hyundai vehicle that comes to our workshop is treated in the right way and with respect by using the right tool for the right job by the highly trained and professional technicians.
Investment in state-of-the-art tools and equipment from Würth helps us to achieve our aspirations," said Hyundai Lanka (Pvt.) Ltd General Manager Hyundai After Sales Sandeep Katipearachchi.
"We have been investing in tools and equipment from Würth since our inception. When we opened our after-sales services and repair workshop 18 years ago, we evaluated and selected top-quality tools and equipment supplier and service provider Würth Lanka to supply the equipment and tools we required to support our expanding customer base.
It is important to have strong partners when you are dealing with top world-renowned brands such as Hyundai for reliability and trust. The order for the first set of tools and equipment was placed with Würth and we are happy with their supplies and support so far," said Hyundai Lanka (Pvt.) Ltd Director After Sales Volker Arnkens.
"We are delighted that one of the leading vehicle repair, maintenance and servicing workshops representing a prestigious global brand – Hyundai – has reaffirmed its satisfaction and commitment to Würth equipment and tools.
As the leading supplier of innovative tools and equipment for engineering workshops and repair centres of this nature, we are committed to provide customized solutions based on our customers' unique needs," said Würth Lanka (Pvt.) Ltd Regional Sales Manager Prasanna Mayadunne.
Since its inception on June 1, 1999, Hyundai Lanka is committed to further expand and support islandwide customers, promising to be the best after-sales service team in Sri Lanka.