---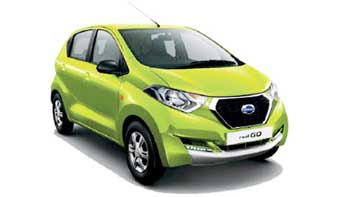 Within a short period of one year, the Datsun redi-GO has swept the Sri Lankan market to become the fastest growing vehicle in the 1000cc manual transmission segment.

This is a testimony of how the upwardly mobile Sri Lankan consumer values reliability, design and efficiency; making them a part of a growing brand.

The Datsun redi-GO returned to Sri Lanka in 2016, ushering in a versatile car that combines agility and efficiency with high ground clearance (185mm), cabin space and daytime running lamps, in addition to wide range of colours to choose from.

"We understand the local market and with the Datsun redi-GO offerings, we have started a journey of breaking through category conventions to ensure that our upwardly mobile customers can make their mark with confidence, pride and ease. It is indeed good news that Datsun redi-GO after just a year has made such a mark in the market and we couldn't be prouder," said Darshana Munasingha, Deputy General Manager - AMW.

Datsun is Nissan Motor's third global brand, alongside Nissan and Infiniti, providing a sustainable motoring experience. Datsun represents 80 years of accumulated Japanese car-making expertise and is an important part of Nissan's DNA.

The Datsun redi-GO's sole agent in Sri Lanka is Associated Motorways (Private) Ltd. - AMW, whose understanding of the local market spans over 65 years, offering world renowned automotive and related products and services.

AMW's growing dealer network for Datsun will span Galle, Batticaloa, Kurunegala, Kandy, Amapara and Gampaha will enable the discerning Sri Lankan consumer to have better access, whilst being able to currently view the Datsun redi-GO at its flagship store in Colombo.