---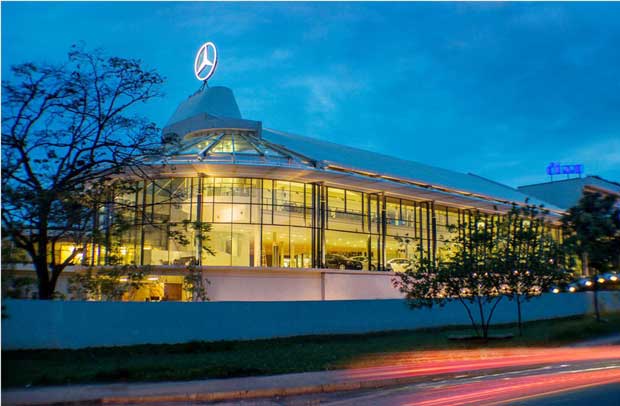 Buying a brand new Mercedes-Benz from DIMO is not merely a question of warranties and security. It's more about starting a relationship with a company that has waded through with a history that has adorned the nation for over 78 years.

As the only authorized distributor in Sri Lanka, for Mercedes-Benz for over 7 decades, DIMO's relationship with Mercedes-Benz is as old, as prestigious.

As the authorised dealer for Mercedes-Benz in Sri Lanka, DIMO provides unmatched value and privilege to its customers. This means that DIMO is deeply aware of the individual customer's preferences and seeks to align them with the Mercedes-Benz he or she intends to own. It is a fact that buying a multi-million vehicle is an investment, and for an investment to hold and appreciate in value – it must be genuine and of supreme quality. Whilst several third party intermediaries also do provide three-pointed stars, none can match the assurance and attention to customer expectations as DIMO does.

Moreover, DIMO looks beyond sales by offering an outstanding array of after-sales services to its customers. It's about the quality of the services that are unmatchable by any other luxury brand nor company in the industry. Mercedes-Benz vehicles from DIMO are serviced every 10,000 km, with factory warranties and 1 year warranties for each repair. This reinforces the fact as to why one should buy from DIMO.

The three-pointed star is partnered with one of Sri Lanka's leading automobile distributor and after sales provider to provide the best and nothing for aspiring Mercedes-Benz customers. The newly built DIMO 800 is probably the largest service and repair centre in this part of the world, and is also the most modern centre in the region. This also emphasises the importance and value placed on Mercedes-Benz in Sri Lanka – after all, Mercedes-Benz is the most luxurious automobile brand in the world.

Considering the strengths and advantages of Mercedes-Benz sales and after sales at DIMO, one does not need to think twice when making the decision as to where they should buy a Mercedes-Benz from. As mentioned earlier, a Mercedes-Benz is an investment. And a smart investor knows that the investment will hold value as long as the product is genuine and is maintained according to the highest standards. DIMO will continue to introduce the latest and the most exciting three pointed stars to Sri Lanka, and continue to build the trust among the Mercedes-Benz community.