---
Diesel & Motor Engineering PLC (DIMO) recently organized a Mercedes-Benz Star Experience at the Dutch Hospital Shopping Precinct, Galle. Mercedes-Benz owners and enthusiasts, Jeep owners and enthusiasts and potential customers in the Southern Region were invited to the Mercedes-Benz Star Experience event.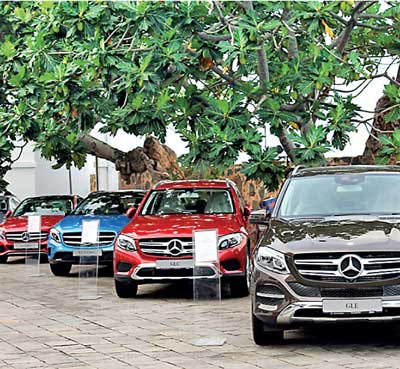 The invitees experienced the latest Mercedes-Benz vehicle range which included the Mercedes-Benz C-Class, the all new E-Class, S-Class, GLA SUV, GLC SUV, GLE SUV, Mercedes-Benz Vito, Mercedes-Benz Citan and the DIMO Premier, Certified Pre-Owned Jeep Cherokee.
The highlight of the evening was the introduction of the latest Mercedes-Benz E-Class to the invitees. This new E‑Class marks the world premiere of numerous technical innovations. They enable comfortable, safe driving on a new level plus a new dimension in driver assistance – among other things. The vehicle comes complete with infotainment and control systems offering an all-new experience.
An optional new multi-chamber air suspension system additionally ensures outstanding ride comfort together with first-class driving dynamics. The sum total of its innovations, including the Active Lane-change Assistant which allows the driver to effortlessly steer into the selected lane, makes the E-Class the most intelligent saloon in the executive class.
Also making its presence in the Southern Region was the all new Mercedes-Benz Vito, the highly versatile and premium van by the Mercedes-Benz. Equipped with a wide range of comforts, Intelligent Lighting System, safety options including cross-wind assist and attention assist, greater fuel economy and longer service intervals, the Vito sees to make its mark in the country with its three variants, the Vito Panel van, Vito Mixto and Vito Tourer. Ranjith Pandithage (Chairman and Managing Director – DIMO), Rajeev Pandithage (General Manager – Mercedes-Benz Passenger and Commercial Sales) and Tharanga Gunawardena (General Manager – Mercedes-Benz Service and Parts) graced the occasion while Team Mercedes-Benz was there to make the night a memorable one for their valued customers. The guests indulged themselves in an extravagant buffet catered for the occasion. The backdrop of the majestic Dutch Fort and the fellowship of the people in the Southern Region made it a memorable night for all that were present.
The Mercedes-Benz Star Experience Galle is the third Star Experience event organized this year which followed the Mercedes-Benz Star Experience in Kandy, and the Mercedes-Benz Star Experience in Ratnapura. "We believe in taking care of our customers and indulging them in the level of exclusivity only Mercedes-Benz could offer. We will be organizing similar experiences around the country in the future", added Rajeev Pandithage (General Manager – Mercedes-Benz Sales).
The all new E-Class and the Vito is now available at DIMO 800 – "Mercedes-Benz Centre" to experience.