---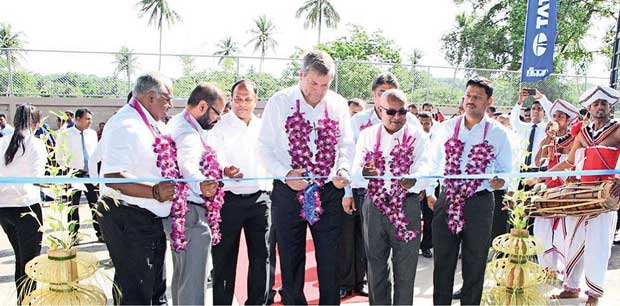 Guenter Butschek CEO and Managing Director Tata Motors flanked with Ranjith Pandithage Chairman and Managing Director DIMO, Gahanath Pandithage Group CEO DIMO, Rudrarup Maitra - Head – International Business, Commercial Vehicles - Tata Motors Ltd., Vijitha Bandara Director - DIMO and Sateesh Machiraju - Regional Manager SAARC -Tata Motors Ltd. ceremoniously launches the new world class facility for Tata Commercial and Passenger vehicles in Kurunegala
Diesel & Motor Engineering PLC (DIMO) launched a new world-class sales, service & Spares facility (3S), catering to the company's wide range of commercial and passenger vehicles in Kurunegala district, all under one roof.
The facility was inaugurated by Guenter Butschek (MD / CEO, Tata Motors Ltd.), Ranjith Pandithage (Chairman / Managing Director, DIMO), Gahanath Pandithage (Group CEO, DIMO.), Rudrarup Maitra (Head – International Business, Commercial Vehicles, Tata Motors Ltd.), Vijitha Bandara (Director-DIMO) and Sateesh Machiraju (Regional Manager, SAARC, Tata Motors Ltd.).
Located along the Dambulla road, the new 3S facility is the largest integrated Tata commercial and passenger vehicles dealership point in Sri Lanka, with a wide display area. Hosting a 22-bay workshop, the facility is also equipped with dedicated bays for accidental repairs, washing ramps, quick service, two post hoists and inspection pits. These facilities are also equipped with amenities like advanced wheel alignment units and an Automatic Lube Dispensing unit, along with driver restrooms with bunkers and washrooms.
The sales and customer reception and waiting area are air-conditioned, where customers can witness their vehicles being serviced. This facility also offers 24x7 roadside assistance services in the North Western region. Professionally trained and experienced staff will make the whole experience of purchasing and owning a Tata vehicle, even more special.
Along with the showroom opening, DIMO and Tata Motors also kicked-off a new global service campaign across 46 countries. The campaign is aimed at proactively reaching out to Tata Motors customers across the globe, with exclusive service benefits during the service campaign.
Rudrarup Maitra, Head – International Business (Commercial Vehicles), Tata Motors Ltd said, "We at Tata Motors are proud to be Sri Lanka's number one commercial vehicles brand and with the inauguration of this new world-class 3S facility, we reaffirm our commitment towards the country's growing transportation sector. With over 100,000 Tata Motors commercial vehicles on Sri Lankan roads, we also take pride in kicking off the global service campaign today here from Sri Lanka."
Speaking on the occasion Ranjith Pandithage, Chairman / Managing Director DIMO said "DIMO is proud to be associated with Tata Motors for over 55 years; a partnership that has been forged on the principles of trust, transparency and customer focus. We are committed to providing the best support for Tata Motors most extensive range of commercial and passenger vehicles and the new 3S facility in Kurunegala is a testimony to that."
DIMO was the first export country of Tata Motors Limited, and the trusted relationship between DIMO and Tata Motors from 1961 has allowed Tata to be the leading commercial vehicle brand in Sri Lanka. During his visit, Butschek also visited DIMO's logistics center at Weliweriya, DIMO's commercial vehicle service complex at Siyambalape and the new Mercedes-Benz Centre 'DIMO 800' at Colombo 14.