---
By Saman Jayathilake
Despite the seemingly limitless call for orders enjoyed by almost all vehicles imports in the country, there seems no end to the vicious competition within the trade.
This is apparent in the countless trade deals, offers and special payments schemes offered by almost every authorized dealers and importers together with bank, financial institutions and many more. There is a little car to be won every week in countless promotions across the country, but still is not enough. Importers and agents fight tooth nail to promote their respective brand with often false information, and an ill-informed public with little knowledge on technical information and global car trends does little to improve the situation.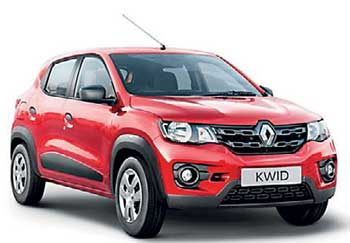 For instance, during a recent effort to purchase a 'little car' for this writer – having fallen victim to the trend – this level of competition amongst importers and the extent of its malice was apparent with the recent controversy surrounding the Renault KWID in Sri Lanka.
This 900cc city dueler is a popular product from the French car manufacturer, and it was making waves all over the sub-continent until a recall in India over a fuel hose clip. Despite a guarantee by its authorized dealer that the recall was only limited to the cars in India, and the recall was alien to KWID cars in Sri Lanka, all the car's competitors made great effort to impress on its potential buyer that the recall necessary to all cars available in Sri Lanka as well. However, it turned out that the recall was specific to KWID cars manufactured prior to May 2016, whereas Associated Motorways had only introduced the KWID to Sri Lanka in June 2016. Thus the recall in India has no impact whatsoever on the model and its cars available here in Sri Lanka.
Our attention was also drawn by some sales personnel to several other 'grave issues' surrounding this car. This included a 'plastic' oil sump, an axle with just three bolts and a seemingly crooked handbrake lever. These matters were further stressed with reference to a number of social media posts that were doing the rounds in Colombo. What was distressing and is noteworthy in this instance is the lack of knowledge of the general public on technical and developments involving the global motor industry, and how traders were employing these lacunae to exploit potential customers and vilify competitor brands.
For instance, a quick internet-search would pacify potential buyers that plastic oil sumps and pans constructed out of 'fiber-reinforced, injection moldable, high-temperature crystalline thermoplastics' have been in existence for a number of years and are used by some of the world's major automotive brands such as BMW, Mercedes Benz and Volkswagen. The new material helps save weight, contributing to greater efficiencies in fuel and performance. The same is attributed to the concern regarding having just three bolts in an axle, as a light-weight car with not more than 900cc can perform well with three bolts as has been demonstrated by other popular global models such as the Tata Nano. For every pitiful concern or scare our traders were building about competition and its designs, the global motor industry has a progressive and effective answer.