---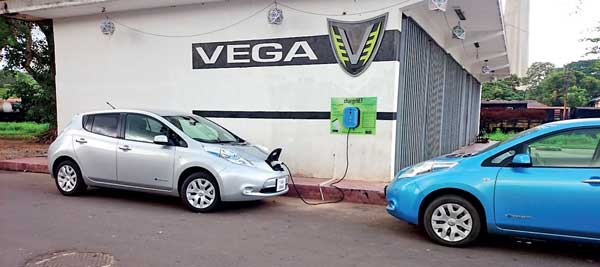 With the emergence of convenient consumer trends, ChargeNET (Pvt.) Ltd, a subsidiary of CodeGen International (Pvt.) Ltd, announced the launch of pre-paid online charge card top-ups as a service enhancement to its network.

All ChargeNET users can now top-up their charge cards anytime, anywhere by logging in to the respective user accounts. The payment can be carried out by using Visa, Master and American Express credit or debit cards. Further, in order to encourage cashless transactions, the pre-paid top up service is also available via online banking and mobile payment options for the convenience of its customers. This service can also be carried out by using a smartphone via the ChargeNET application extended to Android and iOS devices.

ChargeNET is the largest electronic vehicle (EV) charging network in Sri Lanka with a total customer base of over 2000 members and 10 business partners across the country. The business serves an identified customer segment ranging from business users, home users and the end consumer. This makes ChargeNET an integrated platform which offers all EV users and its service providers, a smart solution to save money and time.

ChargeNET users can also download the ChargeNET app on android or iOS devices for easy access and quick search results on the EV charging stations in and around the area. This application is easy to use and is a vital inclusion for all EV owners with exciting new benefits and incentives that will be introduced in the future through the network.

"For EV users, the ChargeNET network is an ideal integrated space to connect for all their EV requirements. Locating a charging station, the type of charger, its availability and status checks are now just a click away. By introducing the online easy pay option, we hope to offer simple solutions to save time spent on carrying out routine chores. The online charge card top-up will now enable the entire ChargeNet network to operate seamlessly with cashless transactions while, we continue to introduce value-added offerings to our customers and partners in the future," stated ChargeNET (Pvt.) Ltd Director Beshan Kulapala.

While ChargeNET focuses on enhancing the user experience with continuous service enrichments and value-added service offerings, the entity also guarantees a cohesive operational platform for all its business partners functioning as a service provider for the end user. A station owner can now customize various elements of an EV charging process with automated report generation, invoicing capabilities and much more.

CodeGen International believes in delivering services that add value to its customers and in augmenting the product portfolio for continuous improvements. While operating in an evolving marketplace with smart technologies transforming the way we do things, the company along with the ChargeNET network, strives to enhance the quality of life through sustainable and convenient lifestyle shifts.