---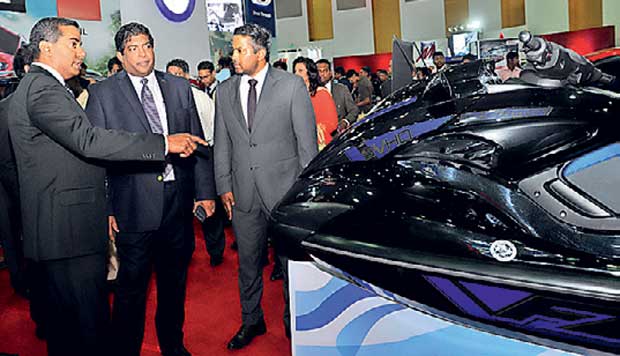 Chief guest Finance Minister Ravi Karunanayake inspecting a jet ski at the Colombo Motor Show held at the BMICH
Pix by Kithsiri De Mel
By Supun Dias
The most prestigious motor and motor accessories exhibition in the country, Colombo Motor Show 2016, organised by Asia Exhibition and Conventions for the ninth consecutive year, was concluded recently.
This exhibition is an annual event that brings together all leading suppliers in the motor industry. This time there were over 270 stalls from 80 companies and it also featured motor car, off-road vehicle and vintage car shows along with a range of other segments. It drew close to 100,000 people during the three days.
The main sponsor of Colombo Motor Show 2016 was Seylan Bank; it was the second consecutive year the bank partnered the event as the principal sponsor. The exhibition displayed a wide range of latest models of automobiles by the top dealers in the country. The highlight was the display of some of the latest models of electric and hybrid
motor vehicles.
As the chief guest at the inauguration of the exhibition, Finance Minister Ravi Karunanayake expressed his gratitude to the organisers for their effort to host such a massive exhibition, which was an important extravaganza in the Sri Lankan calendar.
"Such events showcase the enthusiasm our people have for vehicles and the eagerness they have to gain the trending innovations in place for vehicles. These events provide the platform for all stakeholders in the industry to participate and showcase their products and services," he added.
Seylan Bank Deputy General Manager Delvin Pereira said that at Seylan Colombo Motor Show 2016 people could obtain the on-the-spot lease approval in leasing for automobiles displayed at the exhibition or any other automobile they are keen on leasing.
"Seylan Bank will showcase its leasing and personal lending products and services. More importantly, the bank will offer attractive and unbeatable leasing rates for customers signing up with the bank's leasing services at the event itself," he said.
Apart from the vehicle dealers, the show attracted leading automobile suppliers ranging from lubricants, accessories, paints and other vehicle solutions under one roof. In addition, the event also hosted a bevy of classic cars for the entertainment of the crowd as well as a number of other events including stunt shows to entertain the participants.