---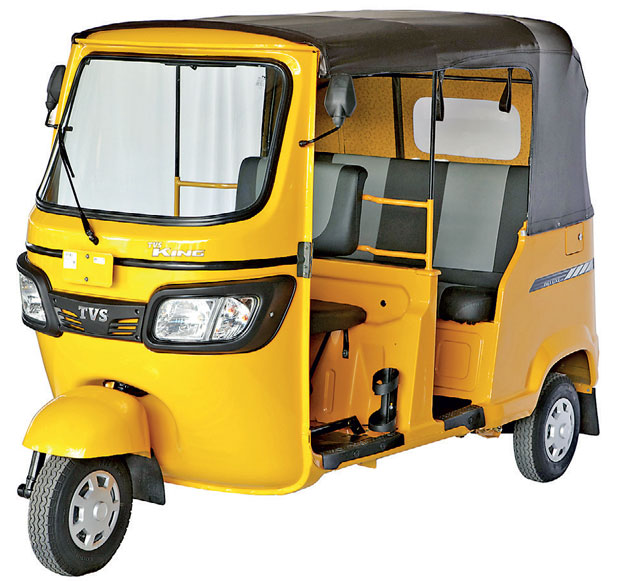 Abans Auto, a leading retailer of two and three-wheelers in Sri Lanka, recently launched the 'strongest and safest 200cc three-wheeler in Sri Lanka', with the introduction of the TVS King Deluxe.

This marks a remarkable achievement for Abans and Sri Lanka as the TVS King Deluxe takes the best features of the TVS King, a futuristic three-wheeler possessing an exceptional fusion of power, style, comfort and fuel efficiency, and improves on them.

The chassis mounted bumper along with an integrated wheel arch create a more robust body frame, which delivers the highest levels of comfort for the driver and passengers of the TVS King Deluxe. Due to the inclusion of high-grade steel that boosts the overall strength and durability of the cabin, customers will be able to enjoy the myriad benefits and immense safety of this three-wheeler for a longer period of time. Even the engine of the TVS King Deluxe has been radically upgraded. Allowing for a jet of oil to directly project oil on to the piston, the TVS King Deluxe is able to operate at the lowest temperatures of any comparable 200cc. This translates to lower wear and tear and the vehicle is able to consistently deliver the highest fuel efficiency which leads to increased savings for the TVS King Deluxe customers.

The TVS King Deluxe like all TVS King three-wheelers comes equipped with a hand-operated reverse gear shifter, a unique feature not available in any competitive product. This feature enhances the driver's comfort which greatly reinforces the appeal of the TVS King Deluxe three-wheeler. Along with this function, the TVS King Deluxe three-wheeler has Powerful Twin Head lamps (35 watts) with bigger and brighter rear tail lamps, and a single large laminated glass windshield. Attractive and spacious interiors further add to the styling of the vehicle which include a car-like dashboard with fuel level indicators and mobile phone charging socket, and dual tone high quality seats.

With the extensive Abans Auto network of over 1000+ touch points, 500 of which offer provisions for after sales by offering either service, spare parts or both; the TVS King Deluxe is ideally suitable for the Sri Lankan automotive market. As expressed by Abans Auto Managing Director Behman Pestonjee: "The TVS King Deluxe is far superior to any other competing product in styling, performance and is affordable. Coupled with the financial assistance given to prospective buyers through Abans Finance, we are confident that it will market well in our country."

Available in six color variants of Red, Blue, Green, Black, Yellow and White, all of which can be purchased from any Abans Auto showroom island wide, the TVS King Deluxe three wheeler is priced from Rs.749,990.