---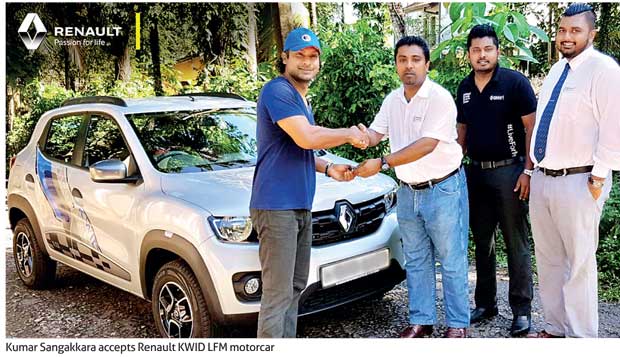 After Kumar Sangakkara became the Brand Ambassador of Renault, AMW gifted him a Renault KWID LFM motorcar for his personal use.

Speaking on that occasion, Sangakkara said that he would state with all the trust and confidence he can muster that Renault KWID is the family vehicle that can fulfil all the travel needs, fully and comprehensively.

Sangakkara further said that he can express his happiness with all the humility about him being the Brand Ambassador and owner of a Renault KWID motorcar, at a moment KWID has filled the minds of its users with great joy.

The attractive appearance of the smart KWID and its fuel economy have enabled it to record the greatest sales out of all motor cars in Sri Lanka during a brief period of time. After Sangakkara became an owner, he had the opportunity to join with the satisfied KWID community that has exceeded 4000 happy customers already.
Sangakkara, who is like a personification of the gentlemen's game and is committed to make Sri Lanka's name reverberate throughout the cricketing world, selecting Renault KWID as his most adored motor car will no doubt make the numerous KWID users joyous and proud.

The KWID Live For More (LFM) edition, which has become Sangakkara' s most esteemed choice, comes to you in a whole range of attractive colours. You have a variety of choices, including a range with the hood railing.

AMW has created the opportunity to arrange the external appearance of the car as you prefer, in terms of your choice. You can now purchase your Smart Renault KWID from the latest Renault branch network that includes Negombo, Kelaniya, Matara and Kandy. This is in addition to the network of branches spread all over the island. Along with the purchase of the Renault KWID motorcar, you will be given an unparalleled warranty of five years. AMW invites you with great pleasure to join hands with the most favourite car of the most favourite cricketer in Sri Lanka.