---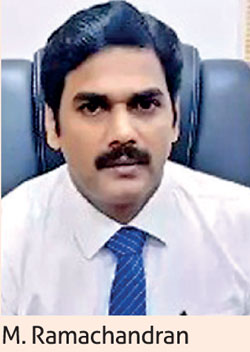 Associated Battery Manufacturers (Ceylon) Limited (ABM) plans to double battery exports in 2017/18 and focus more on innovative technology.
"ABM will also introduce a revolutionary quick charge battery to the market and embark in producing solar batteries which will be charged through solar panels to coincide with the government's efforts to promote small and medium scale installations of solar which will need more solar storing facilities like houses, offices and shops. Rs.200 million will be allocated in capacity enhancement and new battery projects," said ABM Director, CEO M. Ramachandran.
The Director said they have signed an agreement with Sri Lanka Institute of Nanotechnology (SLINTEC) to increase charge acceptance where the batteries will get charged in a very short period. This will create a revolutionary change in the automobile battery market in Sri Lanka, he noted. Further, batteries for electric vehicle will be manufactured targeting electric three-wheelers and when the Sri Lankan market shifts to electric vehicles their products would be ready.
Ramachandran said ABM was able to achieve a 17 percent growth in its top-line and bottom-line in the backdrop of government policy changes affecting its battery sales in the three-wheeler OEM segment by 50 percent in Sri Lanka.

"Despite the decline in the three wheeler market, particularly in OEM, due to the changes in government policy, we recorded a growth of 17 percent and this was possible mainly due to the new strategies that we adopted particularly in the manufacturing and sale of motorcycle batteries and commencing battery exports overseas last year," he said.

ABM meanwhile has recorded a healthy financial performance registering turnover of over Rs.150 million from battery exports and posting a profit before tax (PBT) of Rs.241.65 million in the financial year 2016/17. In 2017/18 ABM intend to double their export targeting an export revenue of Rs.300 million with sales expected to reach Rs.3.1 billion.

Ramachandran said they have established significant inroads in battery exports overseas last year and have now established their Exlan and Abmex brands in Dubai, Singapore, Indonesia, Myanmar and Maldives. "The feedback and performance for these exports has been very encouraging. Particularly the most severe application of the company's brands has been in the taxi segment in countries like Dubai where the temperature goes up to as high as 50 degrees Celsius and the car bonnet temperature going up to 70 degrees Celsius. Also taxis run on average 70,000-80,000 kilometres in six to seven months in these countries", he noted.

He said they were doing well in Singapore and the distributors in Myanmar were very happy with the performance and all these achievements have been made competing in a very price competitive export market. "It is not that we go with a very cheap product in terms of price but by offering new technology, quality and consistency in performance and providing one year's guarantee against six months guarantee we get a better premium," he opined.

Ramachandran said they were also doing a lot of cost reduction activities by adopting Kaizen methods in their production line under the supervision of the newly appointed Kaizen committee and that has helped immensely in cost reduction.

The CEO disclosed that they will be venturing into two new areas this year by exporting batteries to the African and Pakistan markets and last year they had made a breakthrough in the motorcycle battery market in Sri Lanka by entering it with their own products.

Among the significant achievements has been the drastic reduction in warranty claims from 7 percent, three years ago (2013/14) to 2.4 percent and this has helped them increase their market share which went down to 45 percent has now reach the 60 percent penetration, with a year-end target of 65 percent, he said.

The company also strengthened its service network and battery replacements were done quickly when required and this service applies to other brands as well. A new website was also formulated to give firsthand information of their products and troubleshooting solutions to customers and function as a user guide.