---
What is happiness? Pamela Johnson seems to have found the answers. As the Founder of the Secret Society Of Happy People, her ambition is to provide a voice for those who are happy and want to express it without others "raining on their parade". August is Happiness Happens Month and every year the theme changes. This year the theme is "Be The Reason Someone Smiles" – which can be as easy as just smiling at people more, but if you need more convincing to flash those pearly whites, here's three reasons for you to smile.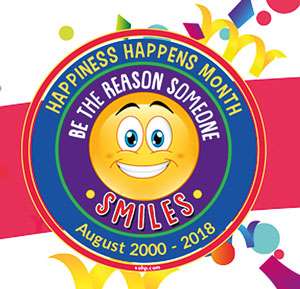 1. Smiling is contagious. Researchers have found that it is difficult to frown when looking at someone who is smiling.

2. Smiling is linked with- reduced stress levels, increased health, endorphin levels, and lowered blood pressure.

3. Smiling does not cause wrinkles. In fact, smiling acts as a facial massage that delivers blood, endorphins, and antioxidants to the skin's surface.
This August, do something nice for someone in your life. Call your mother, cook dinner for a friend or volunteer with a local organization. By putting a smile on someone else's face, it can help put a smile on yours!
Source: Secret Society of Happy People