---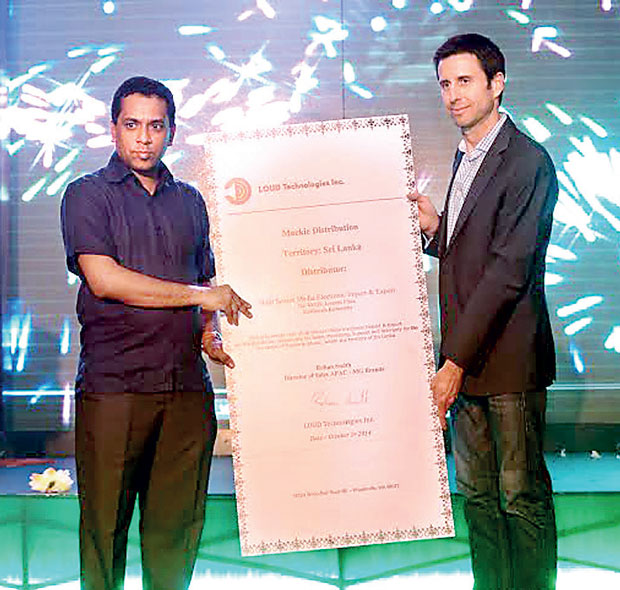 By Chandeepa Wettasinghe
Multi Audio Visual and its subsidiary Audio Vision Trading; the leading local sound systems providers, launched global giant Loud Technologies Inc.'s flagship Mackie Brand in the country this week .
"We partnered up with Multi Audio Visual in January, and we wanted to delay the launch till we evaluated our performance here," Loud Technologies Inc. Sales Director Asia Pacific Rohan Smith told Mirror Business.
This is not the first foray by Loud Technologies into Sri Lanka; not finding success in its earlier attempts. However, Smith said that sales have been phenomenal since the partnership with Multi Audio Visual, and attributed the windfall to the local partner's wide network of 45 retail agents and 10 distributors island wide.
"They have done much better than I could have ever hoped for," Smith exclaimed following a display of Sri Lankan hospitality at the colourful affair held at the Taj Samudra.
Mackie, a legacy brand in sound systems providing was founded in 1989 by former Boeing employee Greg Mackie following his establishment of TAPCO and AudioControl companies, and the parent company Mackie Designs Inc. Was renamed to Loud Technologies Inc in 2003.
The company's reputation is built on quality, affordability and innovation.
"We invest our spare money in product development. We introduced 21 new products in the last 12 months, and these are not sideline products. They are mainstream," Smith stressed.
Meanwhile Multi Audio Visual Managing Director Tilak Arunasiri said that the launch was another step in empowering Sri Lankan music professionals.
"Over the past two decades we have been working closely with the Sri Lankan entertainment industry, enabling them to acquire the up to date practices and technology," he said.
Founded in 1968 as an importer of electronic components, Multi Audio Visual branched into the business of PA and sound systems in 1990. The company is the exclusive dealer for other global brands such as Alesis, Samson MEGAPOWER, Phonic, TKOKO, Soundkin and Numark.