---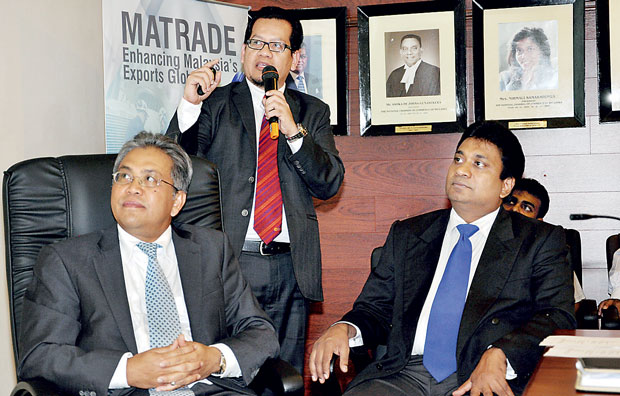 By Dilina Kulathunga
The trade section of the Consulate General of Malaysia is actively encouraging the Malaysian companies to expand operations in Sri Lanka, particularly in the manufacturing sector, according to Vice Consul of trade.
According to Badrul Hisham Hilal, Malaysia has identified the priority investment sectors in Sri Lanka, based on the guidelines given by Sri Lanka's investment promotion agency and thus promoting investments in the areas of manufacturing, tourism, information communication technology (ICT) and port-related areas. "We have been looking at mostly on manufacturing sector, ports and tourism. So, these are the sectors that have been earmarked by the Board of Investment (BoI)," Hilal told Mirror Business. According to the BoI data, from 2005 up to now, Malaysian companies have invested as much as US $ 1,272 million in Sri Lanka in varying sectors and Malaysia was ranked as the top foreign direct investor in Sri Lanka for five consecutive years from 2005 to 2009, particularly due to the investments made in Dialog Axiata PLC.
Axiata Group Bhd, then TM International, entered the Sri Lankan market in 1995 by setting up Dialog Telekom PLC, which is now the market leading mobile telecommunications company in the country and the largest investment by a Malaysian company to date in Sri Lanka.
Based on the market capitalization, Dialog is valued at close to Rs.93 billion (US $ 710 million) and the Axiata Group Bhd subsidiary Axiata Investments (Labuan) Limited held a 83.32 percent stake of Dialog as of June 30, 2014.
Promotion of foreign investments in the Sri Lankan industrial sector could not have come at a better time as the country in its economic journey has entirely bypassed the industries to reach a services economy but the real value addition occurs in the industrial sector, which now stands at less than one third of the economy and growing at a snail pace.
Unlike in the past, Malaysian trade stalls are now a common sight in many trade fairs in Sri Lanka and it appears that the Malaysian entities, which have now reached maturity in the local market, are now seeking expansion opportunities in South Asia.
According to Malaysian High Commissioner Azmi Zainuddin Sri Lanka is Malaysia's fourth largest trading partner.
Meanwhile, the Consul of trade at the Consulate General of Malaysia, Shah Nizam Ahmad invited the Sri Lankan enterprises to invest in Malaysia because of the country's investment-friendly climate.
Speaking at the National Chamber of Commerce of Sri Lanka (NCCSL) Ahmad said Malaysia is ranked at the sixth in ease of doing business, 25th in FDI attractiveness, 15th most competitive economy and the 24th based on global trading.
Speaking about the bilateral trading, High Commissioner said the Malaysian exports to Sri Lanka declined 26.3 percent to US $ 574 million in 2013, while the imports from Sri Lanka increased by 9.7 percent to US $ 87.52 million.
However, during the 1H'14, Malaysian exports to Sri Lanka have spiked 77 percent to US $ 445.71 million from the same period last year.
Sri Lankan exports to Malaysia composed of natural rubber, textiles, fish, processed food and rubber products. Sri Lanka imports petroleum products, palm oil and automobiles.
Overall, Sri Lanka is Malaysia's 44th largest trading partner and 35th export market.